Location
Bingemans
425 Bingemans Centre Drive
Kitchener, ON N2B 3X7
Canada
June 11, 2022 an in-person Mega Job Fair Event @Bingemans Convention Centre, Kitchener, ON Registration is open now.
About this event
The Trucking Network Mega Job fair event is held once a year in summer in Kitchener, ON @Bingemans Convention Center. This event covers the area of Kitchener, Waterloo, and surrounding suburbs. Kitchener, ON is well known for high demand from top fleets for filling in different job openings across the company, for truck drivers/owner-operators, and experienced trucking professionals. This includes mechanics, dispatchers, health, safety, compliance officers, and many others.
For job seekers, a job fair can be a valuable opportunity to:
Explore careers and about job market along with Trucking, transportation and logistics market trends
Meet top fleets and make a positive impression
Interview for available positions
𝐅𝐨𝐫 𝐟𝐥𝐞𝐞𝐭𝐬, 𝐬𝐞𝐫𝐯𝐢𝐜𝐞 𝐩𝐫𝐨𝐯𝐢𝐝𝐞𝐫𝐬, 𝐚𝐧𝐝 𝐚𝐥𝐥 𝐨𝐭𝐡𝐞𝐫 𝐜𝐨𝐦𝐩𝐚𝐧𝐢𝐞𝐬.
Build Relationships by strengthening existing connections while building new ones.
Stay updated with other like-minded yet diverse individuals from our industry, you are bound to hear about innovative new and current trends to help you grow your business and improve your skills.
Appreciate the people in trucking industry because society is more aware than ever about the heroic efforts of professional drivers to keep shelves stocked, so join us so we can show you how appreciated and valued truckers are currently being perceived.
Innovate with new ideas as in our event, successful leaders and up-and-comers from throughout our industry will be present to share their unique perspectives on the innovation and ideas in transportation.
For job-seeker registration : CLICK HERE
For Employer Registration : CLICK HERE
𝐅𝐨𝐫 𝐜𝐨𝐦𝐩𝐥𝐞𝐭𝐞 𝐝𝐞𝐭𝐚𝐢𝐥𝐬 : CLICK HERE
Our Prestigious Exhibitors bring their unique perspectives on the industry to our events. We have representatives from successful carriers, government agencies, and service providers. When you attend a Trucking Network event, you are sure to be able to meet and connect with key players at these different organizations. And we assure you, they will be as happy to meet you as you are to meet them.
For Previous Events Exhibitors List : CLICK HERE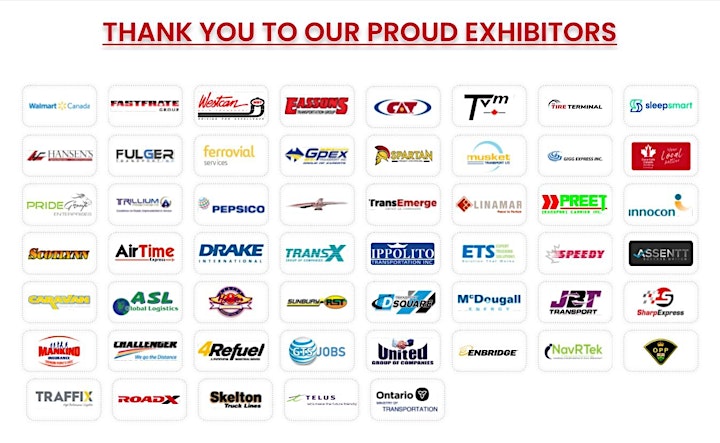 Keeping the COVID-19 Variants in consideration, all federal and provincial guidelines/ protocols will be adhered.
Visit our website for more information.