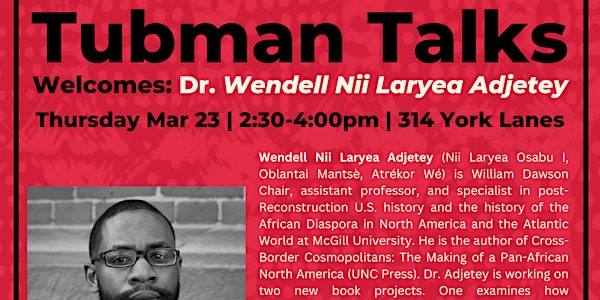 Tubman Talks with Dr. Wendell Nii Laryea Adjetey
Join us for our next Tubman Talks with Dr. Wendell Nii Laryea Adjetey for an in-person event!
Date and time
Thu, Mar 23, 2023 2:30 PM - 4:00 PM EDT
Location
314 York Lanes, York University 314 York Lanes 4700 Keele Street Toronto, ON M3J 2S5 Canada
About this event
1 hour 30 minutes

Mobile eTicket
This is a hybrid event. If you will be joining online, please register here: https://yorku.zoom.us/meeting/register/tJAvc-2vpz0vHtTgVW1sR6YEMG1Abq1FtdR-.
Wendell Nii Laryea Adjetey (Nii Laryea Osabu I, Oblantai Mantsè, Atrékor Wé) is William Dawson Chair, assistant professor, and specialist in post-Reconstruction U.S. history and the history of the African Diaspora in North America and the Atlantic World at McGill University. He is the author of Cross-Border Cosmopolitans: The Making of a Pan-African North America (UNC Press). Dr. Adjetey is working on two new book projects. One examines how revolutionary messianism in Black liberation movements in the United States and beyond inspired Western governments to pursue counter-revolutionary, counter-insurgent, and genocidal measures to thwart African-centered self-determination. His other project unearths just war theory, abolitionism, and humanitarianism in the context of nineteenth-century warfare along the Gulf of Guinea Coast.
"In the Wake of Black Power: Triangulating Revolution and Counter-Revolution in the Atlantic World"
This lecture will examine the ways that African peoples in North America and the broader Atlantic World imagined and pursued self-determination in the post-World War II, anti-colonial moment. It will illuminate the counter-revolutionary and counter-insurgency methods that the national security and intelligence establishments in the United States and Canada deployed against Black activists and revolutionary Pan-Africanism in North America (including the Caribbean) and southern Africa.
About the organizer
The Harriet Tubman Institute for Research on Africa and its Diasporas at York University is proud to be part of an international network of research centres committed to overcoming injustice and inequity as a result of slavery. Our research focuses on the forced and voluntary movement of African peoples around the world. As a social innovator, the Institute's mandate is to promote a greater understanding of the history of slavery and its legacy. The Institute fosters debate, informs public policy and strives to resolve current social injustices. The Institute is named for the spirit of Harriet Tubman, liberator of her people, feminist, and humanist (c.1820-1913).