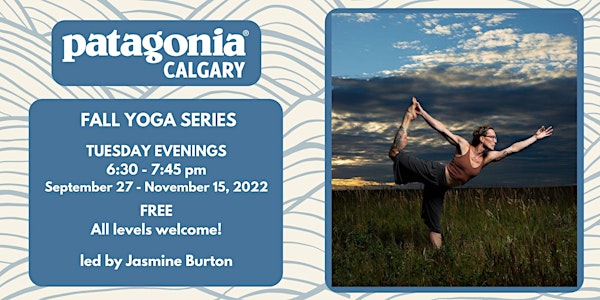 Tuesday Evening Fall Yoga Series
Free yoga class Tuesday evenings 6:30-7:45 at Patagonia Calgary
When and where
Location
Patagonia Calgary 135 8 Avenue Southwest Calgary, AB T2P 1B4 Canada
About this event
Join us every Tuesday evening in store from September 27th- November 15th, 2022 for our Fall Yoga Series led by Jasmine Burton!
Free and welcome to all levels, we will practice Hatha yoga for an hour. Arrive at 6:30 to settle in, and expect the class to run from 6:45 to 7:45 pm. All you need to do is bring your own mat!
About the instructor:
Originally hailing form Quebec, Jasmine has been practicing yoga since she was thirteen and teaching for over 8 years. She has practiced far and wide in places like Karnataka, India and her home base of Calgary.
She teaches weekly private sessions and you can find her teaching a donation-based all-levels class and is on the weekly schedule at the Yoga Santosha Studios in Kensington.
A few words from Jasmine:
"This practice is life-long, imperfect, asymmetrical, messy and honest. When you show up, and are present, magic and freedom await. It's the most honest form of myself I've ever met. I strive to teach from this lens. Forever changing, always in movement, also in stillness, sitting with everything that surrounds the practice mentally and physically through breath."
Photo by Sam McRae