Event Information
Refund Policy
Contact the organizer to request a refund.
Eventbrite's fee is nonrefundable.
Voice Connections - Somatic Singing for Health & Wholeness
About this Event
Join your voice with your body and increase your somatic sense of yourself.
It's good for your voice and your overall health.
An opportunity to sing, breathe and connect to yourself from the comfort of your own home.
Through simple chants, breathing techniques and specific voice exercises designed to free your voice.
Connect to the moment.
Align your energy and build your presence with the sound of your voice!
Chants are written by Anna and based upon the poetry of 13th century poet Rumi
STRUCTURE OF CLASS:
It is a zoom platform with the same link each week.
*The songs/chants are sent out with lyrics and usually a recording. 
*Most of them are simple but getting a heads up beforehand is always nice to familiarize yourself with the material. 
*Once I have an idea of the people joining I will start sending out the songs with lyrics. 
*The structure of the class - 
-Starting with presencing exercises, meditation, simple vibration to ground 
-Moving into a song and then coming to silence to feel and experience the vibrations and movements in the body.
-Working with a voice exercise or two to help open and move more energy and to align with the body. 
-Singing the song again to experience the difference in the body and presence.
- I might work with someone one-on-one and help them to free their voice which helps everyone. 
You are welcome to sign up for 1, 2 or 3 sessions:
DATES:
*September 15 - October 6th
*October 15 - November 3rd
*November 10 - December 1st
PACKAGES:
$70 - 1 session (4 weeks)
$130 - 2 sessions (8 weeks)
$185 - 3 sessions (12 weeks)
You can pay through Eventbrite here, or, via email anna.beaumont@gmail.com
"Thank you again Anna for creating such a remarkable community experience, I am truly grateful and this is deep healing for me, reclamation time. Until being there with all of you last night I hadn't fully acknowledged how deeply I longed for this creative connection. So liberating.
It felt like parts of my soul were making their way back here. It has deepened my spiritual journey and I am so delighted. Thank you for this joy, all the grace, your generosity and for being so welcoming.
You are such a gift to this world Anna, one of those people who really is all heart. While we are each an unfolding of God, it is a defining moment to bear witness to someone who really embodies that."
Alannah
Transform your life one note at a time…
Anna has been studying the voice and it's powerful connection to life, harmony and vibration for over twenty years. Her integrative approach combines the worlds of singing, the Chakra energy system, psychology and spirituality to help you unlock the doors to your sacred voice.
With 25 years of experience Anna's work, Voice Connections helps people in various ways whether it be through simple voice training and coaching for professional singers as well as working with people who experience voice problems such as loss of voice, hoarseness, psychological issues from traumas and performance anxiety.
Anna, the Singer has opened for the likes of Dr. Maya Angelou, Deepak Chopra and has performed with Tommy Banks and Mary Wilson of the Supremes.
Anna the Songwriter has penned theme songs for Canadian Breast Cancer, Children's Health Foundation and the World Championship in Athletics and Anna the Recording Artist has 4 CD's to her credit, her latest called "The Doorway" which is a collection of songs written to the poetry of the mystical poets Rumi & Hafiz.
Anna brings her experience of healing her own voice and body to each and every student.
With her training in Integrative Body Psychotherapy, Voice Dialogue, the Voice and the nervous system Anna helps others to uncover their voice and to connect to the profound beauty that lies within.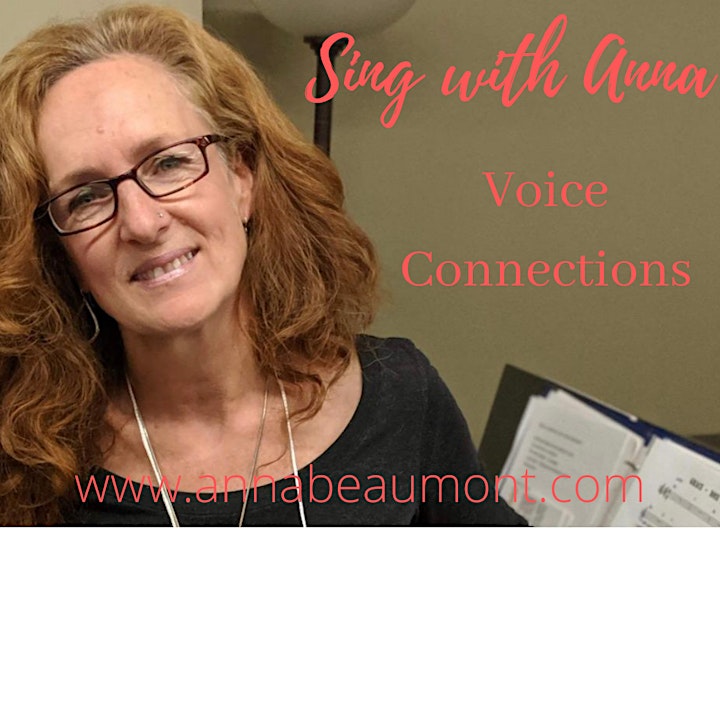 Date and Time
Location
Refund Policy
Contact the organizer to request a refund.
Eventbrite's fee is nonrefundable.