Description
The Clemmons Family Farm is honored to present Dr. Damascus Kafumbe as our next guest speaker in our Humanities Speaker Series, "To Sing of Common Things: Exploring Love, Family, Identity, Politics and Daily Life in African and African American Literature, Music and Performance". Ethnomusicologist Damascus Kafumbe presents some of the work from his forthcoming book, "Tuning the Kingdom: Kawuugulu Music, Politics, and Storytelling in Buganda," contextualizing it in his research on and experiences with the role of musical practice and storytelling in shaping Ugandan political structures and processes.
A skilled composer and musician, he will also demonstrate some of the use of traditional musical instruments, songs, and dances that influence political life in the country.
Get ready for a highly educational, engaging, and interactive humanities event! Thanks to the generous support of the Vermont Humanities Council, this event is free. Admission is limited to a maximum of 35 people.
MORE ABOUT OUR GUEST SPEAKER, DAMASCUS KAFUMBE, PhD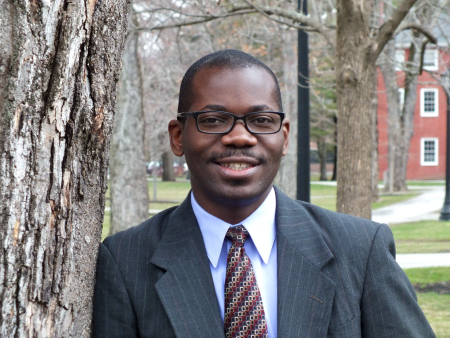 A native of Uganda, Dr. Kafumbe received his B.M. from Makerere University and M.M. and Ph.D. (Musicology) from Florida State University. He is a professor at Middlebury College, having joined the music faculty there in 2011 to teach ethnomusicology/world music courses, direct the Middlebury African Music and Dance Ensemble, and maintain the College's Ugandan musical instrument collection.
Dr. Kafumbe's research spans diverse fields, including ethnomusicology, performance, history, politics, ritual, African studies, and social organization. In addition to "Tuning the Kingdom" (his newest book), Professor Kafumbe has published articles, reviews, and interviews in African Music, Ethnomusicology, World of Music, and Yearbookfor Traditional Music.
A multi-instrumentalist, dancer, composer, and instrument technician, Professor Kafumbe specializes in East African musical and dance traditions. He is knowledgeable about the construction and maintenance of many of the instruments he plays, and has served as an instrument technician and acquisitions consultant for the Musical Instrument Museum, Tallahassee Community College, Appalachian State University, Wabash College, Florida State University, and Indiana University. Record/production companies such as Deer Pants Productions, Odd Freak Films, Endongo Records, and Sony BMG have released/commissioned his music.
Professor Kafumbe has received recognitions and research awards, including the Mark and Margery Pabst Charitable Foundation of the Arts Musicology Award and a Carnegie African Diaspora Fellowship that recently took him to University of Jos (Nigeria) to co-design a B.A. music program. He is also an active member of the Society for Ethnomusicology (SEM), the International Council for Traditional Music (ICTM), the African Studies Association (ASA), and the African Theatre Association (AfTA).
MORE ABOUT THE CLEMMONS FAMILY FARM'S HUMANITIES SPEAKER SERIES
To Sing of Common Things: Exploring Love, Family, Identity, Politics and Daily Life in African and African American Literature, Music and Performance features guest speakers whose presentations highlight the contributions of selected African American and African authors, musicians and performers to the exploration of love, identity, politics and daily life through the humanities. Held between June and October 2017, the speakers' series theme is inspired by the poem "Common Things" by Paul Laurence Dunbar. The speakers series is funded in part by a grant from the Vermont Humanities Council with the support of the Peace and Justice Center.
FAQ
Where do I park?
The Barn House address is 2122 Greenbush Road, Charlotte Vermont 05445. Please park in the barnyard located across the street from the Barn House. You will see an "Event Parking" sign indicating the area where you can park.
What do I do if I cannot walk down and up the hill to the Barn House?
Please contact us at clemmonsfamilyfarm@gmail.com or call (802) 310-0097 so that we can arrange for a car to drive you down (and up) the hill. Also, the Barn House has an access ramp for those who may have difficulty using the stairs at the main entrance.
How can I contact the organizer with any questions?
Please contact us if you have any questions about the event. You can reach us at clemmonsfamilyfarm@gmail.com or call 802-310-0097
Where can I learn more about the Clemmons Family Farm?