Description
I'm confident you can list all of the reasons why you'd like to change up the Thanksgiving tradition this year – here are a few that made my list:
Prepping, cooking and cleaning up after the Thanksgiving feast is a lot of work.
Due to all of the prepping, cooking and cleaning, someone always misses the big game or the famous parade or being part of a special conversation
Each year you are enticed to purchase festive decorations just for the Thanksgiving holiday – more to buy and more to store until next year.
Most of the continental USA is in a winter deep freeze but even if your home town isn't, we can almost guarantee the weather's nowhere near as nice as on the cruise ship or in the Bahamas.
I know that you keep up the Thanksgiving tradition because it's so important to you and your family and friends. Just the thought of those happy faces around the dining room table makes your heart glow. So what's a Thanksgiving host to do? You've probably guessed by now that I have the perfect solution for you — a Thanksgiving family cruise!
On our Thanksgiving cruise, chefs take care of all the dinner fixings*; the dining rooms, bars and lounges feature Thanksgiving decorations and colors; and the staff entertains you and your guests with fun cruise activities. You can even catch a Thanksgiving Day parade on the large screen or the big sports game at one of the bars. Best of all, this traditional holiday fun takes place on a beautiful cruise ship while you're sailing the wide blue sea, and you don't have to lift a finger to make it happen.
*Chefs serve a traditional Thanksgiving evening meal, featuring roasted turkey, yams, mashed potatoes, cranberry relish, giblet gravy and pumpkin pie.
Here are some details: Call me if you need more. 678-906-6042
A 25.00 Deposit per person will hold your spot if recieved by April 22,2019
A 150.00 Deposit per person will allow you to choose your cabin (recommended!) and is required by July 7, 2019


Group Pricing: (these rates are based on double occupancy and 98.52 in tax and port fees per person is added to the fare)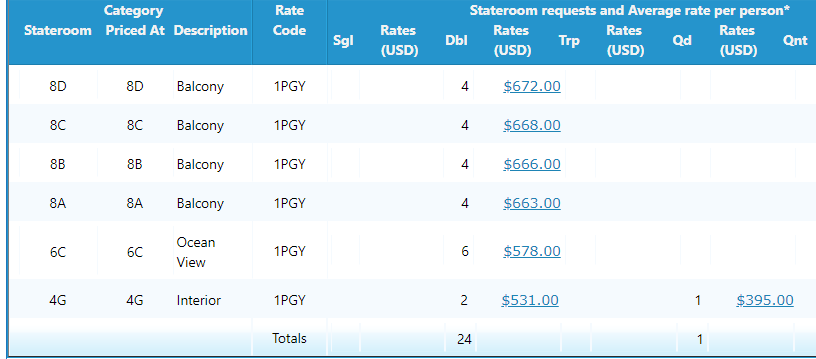 CABIN AVAILABILITY UPDATE: Although space is guaranteed for the group cabins, as space fills the ability to choose your cabin is limited. As of 04-12-19 the 6C and 8A catagories are only available as Guaranteed cabins (no cabin assigned until boarding). All other catagories in the group list have cabin assignment available with a full deposit. Call me if you need more info 678-906-6042
Fill out the free ticket request f you would like to join us and I'll call you to make the arrangements. Or just give me a call. You do not need a passport for this cruise. It is about a 4 hour drive from Atlanta to the port at Charleston.