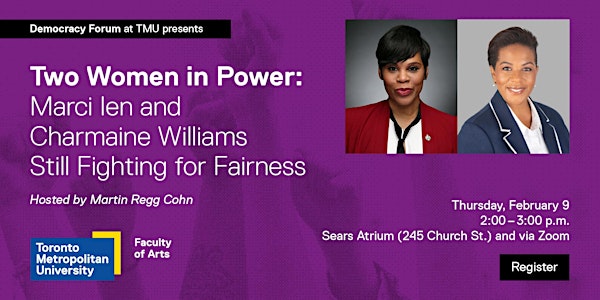 Two Women in Power: Still Fighting for Fairness
Two Women in Power: Still Fighting for Fairness
By Democracy Forum at Toronto Metropolitan University
When and where
Date and time
Thursday, February 9 · 2 - 3pm EST
Location
Sears Atrium, 3rd Floor George Vari Engineering & Computing Centre 245 Church St. Toronto, ON M5B 2K3 Canada
About this event
On Parliament Hill and at Queen's Park, two cabinet ministers from opposing parties are coming together to fight for women's rights across Canada and here in Ontario: Marci Ien is federal Minister for Women and Gender Equality and Youth; Charmaine Williams is her Ontario counterpart responsible for Women's Social and Economic Opportunity. Bring your questions to the Democracy Forum hosted by Toronto Star Columnist and TMU Visiting Practitioner Martin Regg Cohn. This free event is sponsored by the Faculty of Arts at Toronto Metropolitan University and open to the public.
The Democracy Forum will be hosted in-person on Thursday, Feb 9 from 2:00pm-3:00pm at the Sears Atrium, 245 Church St., 3rd floor. A limited number of in-person tickets are available, or register for the live stream.
Marci Ien has been the MP for Toronto Centre since 2020, and Minister for Women and Gender Equality and Youth since 2021. An award-winning television journalist and host, she was also active overseas for World Vision and Journalists for Human Rights. A graduate of TMU's journalism program, she was also a distinguished visiting professor and served on its Board of Governors.
Charmaine Williams has been Minister responsible for Women's Social and Economic Opportunity since winning election as MPP for Brampton Centre in mid-2022. She was the first Black woman elected to Brampton City Council in 2018. She was previously a therapist and behavioural counsellor focussing on childrens' services. She studied child and youth services at Centennial College.
Martin Regg Cohn is a political columnist for the Toronto Star. A foreign correspondent for 11 years, he has reported from more than 40 countries. He was also Foreign Editor, a world affairs columnist and Parliamentary correspondent. A Visiting Practitioner in the Faculty of Arts and founder of the Democracy Forum at TMU, he is also a Senior Fellow at the Munk School of Global Affairs and Public Policy at U of T.
If you require any accessibility accommodations, please email artscomms@torontomu.ca.
About the organizer
Sponsored by the Faculty of Arts and hosted by Toronto Star columnist and Toronto Metropolitan University Visiting Practitioner, Martin Regg Cohn, the Democracy Forum at TMU is a speaker and panel series featuring past and current politicians, journalists, and experts discussing issues and challenges facing provincial, national, and international democracies.