Sales Have Ended
Registrations are closed
Thank you for registering for Science in the Valley at Trinity Western University. Your registration has been received, and your status has been decided. The date and time of your workshop is included. A Message from Liz Robertson, Trinity Western University -regarding Science in the Valley:Salmon, Ecosystems, Biology, Chemistry, Math/Computer Science... Thank you for registering your class(es) for the Science in the Valley Programs for May/June 2018. Nearly all spaces are filled, however, I do have a few remaining spots for most programs, please pass on the registration link for Eventbrite, to any collegues that might be interested in having their class attend. At this point, if you have sent your $250 deposit cheque for each class, thank you. If you have not done so, would you please send those in to me asap. The deadline was January 31st, however, I will continue to accept these deposits. (You would not be removed from the list without me contacting you first, so dont worry.) AT THIS POINT PLEASE DO NOT CANCEL. Only cheques can be accepted, please make them out to TRINTIY WESTERN UNIVERSITY, with whatever program you have signed up for (SALMON, ECOSYSTEMS, BIOLOGY, CHEMISTRY, MATH/COMP) in the subject line. On the outside of the envelope, please be sure to write "LIZ ROBERTSON" so it comes directly to my office for processing. Thank you so much. I look forward to having your class on our campus participating in the Science in the Valley Programs. Liz Robertson, Science in the Valley Coordinator, Trinity Western University
Sales Have Ended
Registrations are closed
Thank you for registering for Science in the Valley at Trinity Western University. Your registration has been received, and your status has been decided. The date and time of your workshop is included. A Message from Liz Robertson, Trinity Western University -regarding Science in the Valley:Salmon, Ecosystems, Biology, Chemistry, Math/Computer Science... Thank you for registering your class(es) for the Science in the Valley Programs for May/June 2018. Nearly all spaces are filled, however, I do have a few remaining spots for most programs, please pass on the registration link for Eventbrite, to any collegues that might be interested in having their class attend. At this point, if you have sent your $250 deposit cheque for each class, thank you. If you have not done so, would you please send those in to me asap. The deadline was January 31st, however, I will continue to accept these deposits. (You would not be removed from the list without me contacting you first, so dont worry.) AT THIS POINT PLEASE DO NOT CANCEL. Only cheques can be accepted, please make them out to TRINTIY WESTERN UNIVERSITY, with whatever program you have signed up for (SALMON, ECOSYSTEMS, BIOLOGY, CHEMISTRY, MATH/COMP) in the subject line. On the outside of the envelope, please be sure to write "LIZ ROBERTSON" so it comes directly to my office for processing. Thank you so much. I look forward to having your class on our campus participating in the Science in the Valley Programs. Liz Robertson, Science in the Valley Coordinator, Trinity Western University
Description
Welcome to Science in the Valley
---
Since 2005, Trinity Western University's Biology, Chemistry Math/Computer Science and Environmental Studies departments host hundreds of students throughout the Fraser Valley at our Science in the Valley Program each May. The program offers workshops to classes in the GVRD School Districts as well as home-schooled students. Science in the Valley helps to encourage and excite students towards further study of Science. All activities are taught with an emphasis on student participation and a "can do" attitude. With only one class per session, students receive personal teaching instruction from TWU's Undergraduate students.
Each student will be given a manual for use during the field trip and then upon completion of each workshop students will receive a certificate of participation.
Programs we offer:
Grade 4: Salmon
Grade 5: Eco-Systems and Human Impact
Grade 6: Biology
Grade 7: Chemistry
Grade 7: Math/Computer Science
Pricing:
All programs are $12 per student with a minimum class payment of $250.
Teachers and chaperones are free
Details regarding each program can be found on the Website. (Hyperlink to: https://www.twu.ca/academics/faculty-natural-and-applied-sciences/science-valley)
Registration Process:
Please be aware that these workshops are popular and fill up VERY quickly. We will do our utmost to have your class attend, however, we are unable to promise availability. This registration is an initial request for field trip dates. Schools will be registered on a first-come-first-served basis. Once we are fully booked we will automatically add the remainder of the registration requests to a waitlist.
The application and registration process is as follows:
Apply via Eventbrite for your desired field trip dates, registering each class separately
If you don't see a ticket available for the workshop you desire, please email Liz Robertson
Receive confirmation of registration received

Liz will notify you of days/times booked
Once you confirm, Pay a $250 per class non-refundable deposit to secure your booking(s)
Specific information will be sent to you
Complete information with full class details on Eventbrite (final numbers can be confirmed at a later date)
MAY 2018 EXPECTED DATES:
GRADE 4, SALMON, "SALMON IN THE VALLEY" OR GRADE 5, ECOSYSTEMS, "HUMAN IMPACT":May 1-4, 7-11, 14-18, 22-25, 28-31, June 1, 4
GRADE 6, BIOLOGY, "LIFE THROUGH A LOOKING GLASS": May 1-4, 7-11, 14-18
GRADE 7, CHEMISTRY, "MATTER MATTERS": May 1-4, 7-11, 14-18, 22-25, 28-31, June 1, 4-8
GRADE 7, MATH/COMPUTER SCIENCE, "PI IN THE VALLEY": May 1-4, 7-9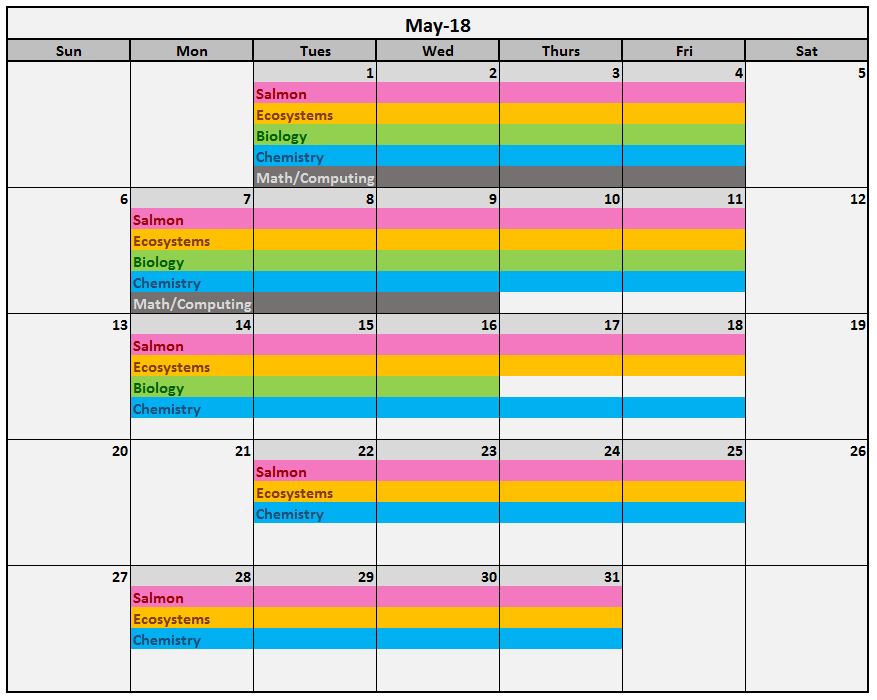 Schedules can sometimes be adjusted slightly to accommodate bus transportation needs. Please make prior arrangements with Liz Robertson if this is necessary.
Thank you for your assistance and patience as we try to make registration for Science in the Valley as efficient and fair as possible.
---
Liz Robertson
liz.robertson@twu.ca,
Science/Salmon in the Valley Coordinator,
Ph: 604-888-7511 x3073