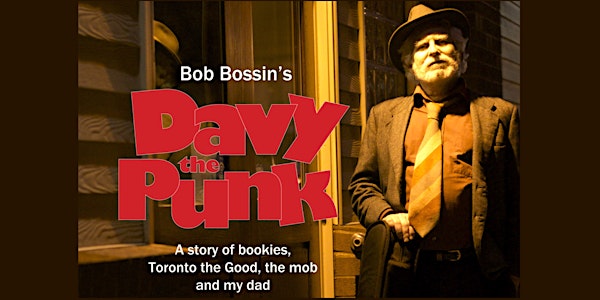 TYHS & TFPO Present: Davy the Punk
Location
Performing Arts Lodges of Canada
110 The Esplanade
Toronto, ON M5E 1X9
Canada
Description
Just in time for Father's Day, the Town of York Historical Society and Toronto's First Post Office present a son's tribute to his father, Davy the Punk.
Davy the Punk is Bob Bossin's one-man musical about his father's life in Canada's gambling underworld - a story that is, according to CBC's Michael Enright, "fascinating… amazing and sometimes hilarious." It is "so outrageous," says Andreas Schroeder, "it's worthy of a Mordecai Richler novel."
Davy Bossin, Bob's father, was born in 1905. Finding his way blocked by the rampant anti-semitism of the time, Davy blazed his own path in a new, vibrant, international industry - gambling. There he matched wits with cops and mobsters, grifters and grafters, crooks and judges. His court cases set precedents that affect us to this day.
Davy's son Bob grew up to found Stringband, to pioneer Canadian indie music, and to write songs Pete Seeger praised as "funny, informative and inspiring at the same time."

Now Bossin Jr. tells Bossin Sr.'s story, in a performance that is, according to musician and playwright Si Kahn, "the stuff of dreams and movies." Says musician and author Leon Rosselson, "[Davy the Punk is] about fatherhood, family, immigrant life, political high life and the criminal underworld. Entertaining, illuminating and, at times, touching."
"A thoroughly enjoyable and revealing romp through the historical underside of Toronto the Good." - Lilian Nattel