Sales Have Ended
Ticket sales have ended
Thank you for your registration.
Event Information
Location
Tyndale University
3377 Bayview Ave
Toronto, ON M2M 3S4
Canada
Sales Have Ended
Ticket sales have ended
Thank you for your registration.
Tyndale University's Preaching Conference is BACK! We will be hosting a hybrid conference this year with a line-up of exciting speakers.
About this event

How can we inspire current and future generations with the gospel in compelling and innovative ways? How are we, as the Church, called to represent Jesus in a constantly changing world?
We invite you to join us in tackling these questions and more at the 2022 Tyndale Preaching Conference. Focused on the theme, "Preaching With Millennials and Gen Z in Mind," this one-day conference includes an exciting line-up of speakers and workshops, and provides key opportunities for collaboration and discussion. Please see our website, Preaching Conference 2022, for more details on our speakers and workshops.
We hope that you will join us in learning alongside like-minded peers, forming valuable connections, and gaining new insights from academic experts. We have the immense honour of hosting this year's feature speaker, Dr. Mary Hulst, author of A Little Handbook for Preachers: Ten Practical Ways to a Better Sermon by Sunday (2016). We are praying that this conference will be a catalyst for powerfully equipping you for ministry and for expanding the reach of the gospel in our city.
Registration includes: Two plenary speaker sessions, Tyndale chapel service, and three interactive workshops. All in-person attendees will receive a brown bag lunch, a conference package, and the option of attending a wellness workshop during lunch. Parking on-campus is free. All online attendees who register before May 10, 2022 and reside in Canada will receive a conference package and a small gift mailed to their address provided.
Group Discount: As of April 14, 2022 2:00pm EDT, we are offering a 10% group discount for any group purchasing 5 or more tickets. Please note that the five tickets must be of the same type (e.g. all in-person or all online). Please remember to specify the names, emails, workshop preference, and dietary needs (if in-person) when checking out. GROUP DISCOUNT CODE: group10
UPDATE: Early bird deadline: April 29, 2022  11:59pm EDT
Grant Application: If you require financial support to attend this conference, please complete an application form highlighting to us what your current need is. Members of the Preaching Conference Committee will review the application and, once approved, will contact you via email with a discount code that you can use towards your ticket. Please be advised that this grant is only available to individuals who are purchasing individual alumni tickets and individual regular tickets (both online and in-person, including early-bird). Link: Grant Application for Tyndale University Preaching Conference 2022
Refund Policy: Attendees will receive a full refund if the request is made by May 9, 2022 at 11:59pm ET. If the refund request is received between May 10-15, 2022, the refund will be subject to a 10% service charge (to ticket price at purchase). After May 15, 2022, refunds will incur a 50% service charge (to ticket price at purchase). We strongly encourage attendees consider switching to online tickets if they are unable to attend the event in-person.
Changing from In-Person to Online Ticket (and vice-versa): If, for any reason, you need to change your attendance from in-person to online (or vice-versa), please note that the refund policy will not apply, since it is not considered a refund. The cost of the ticket, however, will be based on the time the request is made. For example, if you purchased an early bird in-person ticket but then request for an online ticket after the early bird deadline, we will refund the cost of the early bird ticket, but the online ticket cost will be at regular price.
This event is graciously sponsored by Deeks Insurance.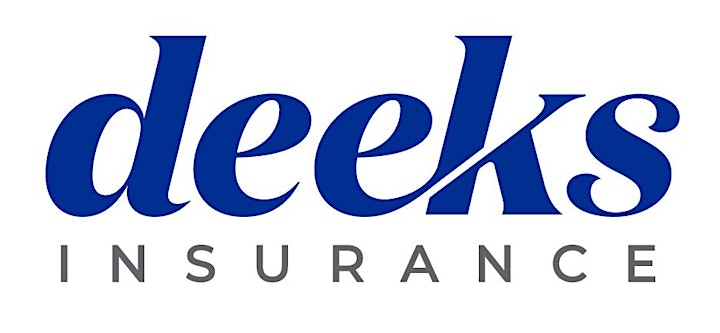 Date and time
Location
Tyndale University
3377 Bayview Ave
Toronto, ON M2M 3S4
Canada