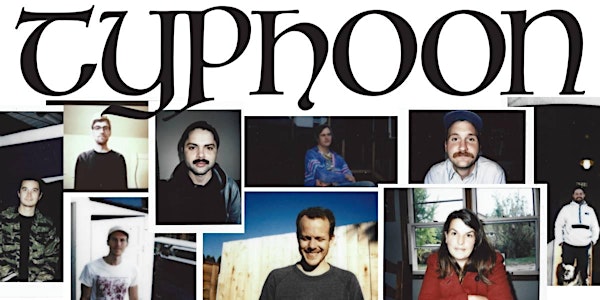 Typhoon, with guests MAITA and Ashley Shadow
Performers
Typhoon
MAITA, Ashley Shadow
Location
Rickshaw Theatre
254 E. Hastings Street
Vancouver, BC BC V6A 1P1
Canada
Portland indie rockers Typhoon return to the Rickshaw Theatre this June, with guests MAITA and Ashley Shadow.
About this event
The Rickshaw Presents Typhoon
with guests, MAITA and Ashley Shadow
Saturday, June 25th, 2022
The Rickshaw Theatre
19 +
Doors: 7pm
Kyle Morton, and his collective indie rock group known simply as Typhoon, return to the Rickshaw stage once again this June, with guest MAITA.
UPDATE: Due to unforeseen circumstances the date of this show is changing from February 19th to June 25th, 2022. All tickets purchased for the original date will be honored for the new date.
IMPORTANT NOTICE
At the request of the band, all attendees to Typhoon's performance at the Rickshaw must be masked at all times unless actively consuming a beverage. Typhoon and the Rickshaw thank you for your cooperation. So, please don't forget to bring your masks with you.
TYPHOON
In 2018, ahead of the curve as usual, Typhoon released an apocalypse album. The ambitious double-LP Offerings found Morton writing about senility, the most terrifying thing he could imagine. It was the darkest and most difficult Typhoon record, if ultimately the most rewarding for longtime listeners. It was also much bigger than personal narrative: Offerings was as much about a world and a country forgetting their virtues as it was about our narrator losing his mind.
Now in the midst of an actual apocalypse, Typhoon finds themselves ahead of the times once more. Sympathetic Magic, first tracked in the basement home studio Morton built while isolating with his wife and dog, then fleshed-out piecemeal with socially distanced bandmates, is both a meditation on grief and a road map to healing. It's inspired by the dark delusion of the Trump years and the loneliness and uncertainty of the pandemic, yes, but also colored by the hope and connection Morton felt while marching in massive racial justice protests in his native Portland. "The songs are about people," Morton writes. "The space between them and the ordinary, miraculous things that happen there, as we come into contact, imitate each other, leave our marks, lose touch. Being self and other somehow amounting to the same thing."
Typhoon songs are, overwhelmingly, about the human tendency to confuse the things that possess us for the things we possess. They are about the impossibility of home, even as physical houses feature so prominently in Morton's songs: dying on the kitchen floor, an idyllic cabin where small monsters lay in wait, the long hallways of the devil's mansion. In ever more ambitious fashion, Typhoon asks why it's so hard to find our place, why our lot is never large enough. Honestly, the answer keeps getting darker. Lucky for us, Typhoon keeps a light on.
Typhoon Online
MAITA
Hot off the heels off MAITA's 2020 debut, Best Wishes, named one of the "50 Albums that Define Oregon" (Portland Monthly), MAITA's sophomore LP, I Just Want To Be Wild For You, digs into the crippling oxymoron of modernity, the constant bombardment of communication paired with utter disconnection.
Ashley Shadow
It's easy to fall under the spell of Ashley's haunting voice. The Vancouver, B.C. based songwriter forged her own identity as a songwriter with 2016's eponymous self-titled debut. Her sophomore effort, Only the End, maintains the moody introspection that is ingrained in Pacific Northwest life, but now comes armed with a palpable hope complimenting her signature melancholy. Her confident vibrato above lightly, distorted guitars mirrors the album's theme of resilience, if not triumph, over adversity. There is comfort in these warm songs that endorse the realism of contented acceptance, rather than the naïve search for non-existent utopias.
www.firstdatetouring.com/artists/ashley-shadow/
Refund Policy
No refunds - unless event is cancelled.