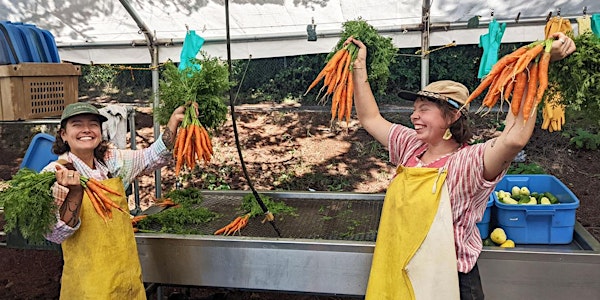 UBC Farm Practicum Online Open House
Applications for the 2023 UBC Farm Practicum are now open! Come on out to our online Open House to ask your questions and learn more.
About this event
UBC Farm Practicum Now Open to Applications
Be part of the future of farming and food systems. Join this online Open House to learn more about the UBC Farm Practicum in Sustainable Agriculture!
Our Practicum program is a hands-on educational program providing students with a full growing season of experience. The six-month experiential learning program is designed for aspiring farmers, environmental educators, gardeners, and students interested in applying knowledge about sustainable agriculture and food systems.
The 2023 program runs from April 8 to October 20. UBC students are eligible to receive from six to nine credits. Non-students encouraged to apply.
The Open House will include a presentation from current staff, and a Q&A with some of the students from the '22 cohort. Join us to ask your questions and to meet some of the farmers leading the program.
Please register so that we know how many people to expect, and join us on Zoom here: https://ubc.zoom.us/j/64423394588?pwd=emVXOU9DQzJnMXpmOG80QnkrWlpRQT09