Description
A unique evening meant to help us reconnect with our UBUNTU (Humanity) and our inner vision.

Mindfulness has become something of a buzzword in recent years with the practice being introduced in schools, businesses and even prisons and hospitals – to reduce stress improve productivity and facilitate the healing process. Mindfulness is often reduced to a relaxation technique, when in fact it refers to focused attention on the present moment, leading to an increased awareness of oneself and the world around us. By expanding the mind and connecting fully with the 'now', it becomes possible to achieve perspective and clarity. The practice of mindfulness is derived from Buddhism, but it remains at the heart of many spiritual traditions.

Initiated in three timeless traditions: AFRICAN SHAMANISM, YOGA and ZEN BUDDHISM; John Lockley also holds a degree in clinical psychology. The richness of his journey and experiences have led him to a practical synthesis of the valuable benefits of mindfulness that he teaches in a dynamic form, making use of percussions, traditional dances and songs, to anchor each participant in his own body and that of the earth.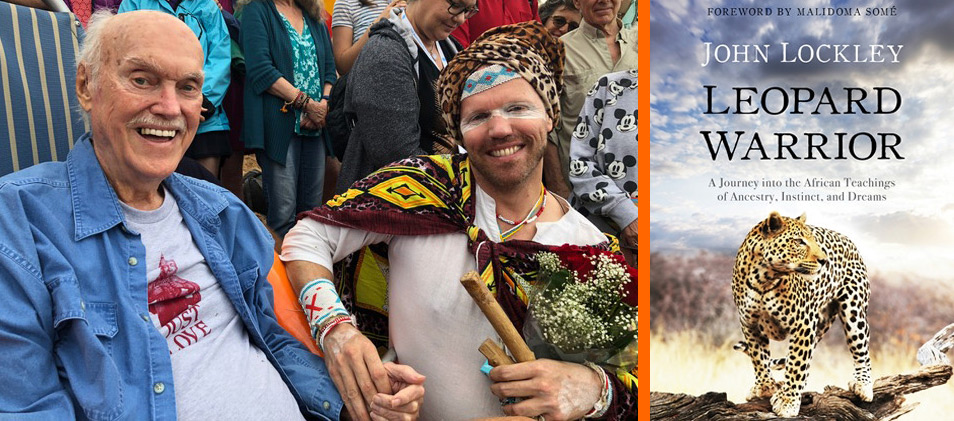 John shares several profound teachings and practices from his specific tradition aimed at answering the question, "How is the great mother (nature) calling me at this moment?" - Ram Das

John is one of the first white men in recent history having been initiated as a Senior Sangoma, in the Xhosa lineage of South Africa, the tribe of Nelson Mandela and Desmond Tutu. He was born in 1971, during the apartheid that divided South Africa, with the Sangoma mark on his face - a strip of white birth skin around his eyes. At age 18, while serving in the South African army as a physician (during the war with Angola in the 1980s) John received a powerful prophetic dream that invited him to train as a Sangoma Xhosa. He began to suffer from the Thwasa, traditionally associated with a learning period of a shamanic teacher. Because of the restrictions of apartheid (which ended in 1994), it would take John seven years to find a Xhosa teacher. At the beginning of his vocation, he followed a Zen student training under the direction of Su Bong, a renowned Zen master, and completed a three-month intensive Kyol Che (meditation intensive) at a Buddhist monastery in South Korea. He was then invited by Grand Master Dae Soen Sa Nim to join his "delegation of monks", but the strength of his Sangoma call brought him back to South Africa.

Finally, just after the Apartheid, John met Mum Ngwevu, a well-known Xhosa Sangoma medicine woman, in one of the poorest townships in South Africa. Having foreseen his arrival in a dream, she offered to train him and so began his 10-year apprenticeship, giving him the initiated name of Ucingolwendaba, which means messenger or connector between people and cultures. John now splits his time between South Africa, Europe and North America.

This evening will be a prelude to John Lockley's weekend seminar entitled: "The Way of the Leopard".

* * * * * * * * * * * * * * * * * * *
PRIVATE CONSULTATIONS
Besides is public activities in Quebec and Ontario, John will also be available for a limited number of meetings and private sessions. If you are interested, contact in Montreal Anthony Mohammed: las_nubes00@hotmail.com. For more information on his work visit his website: www.johnlockley.com