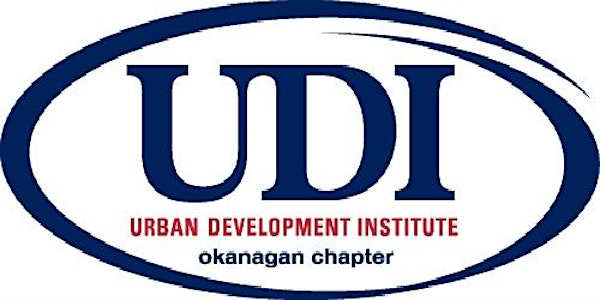 UDI Okanagan - Our Future City Conference
When and where
Location
Rotary Centre for the Arts 421 Cawston Avenue Kelowna, BC V1Y 6Z1 Canada
Refund Policy
Contact the organizer to request a refund.
Description
Join Us For OUR
FUTURE
CITY
A first of its kind half-day real estate development focused conference that will look into the future growth and direction of Kelowna and the Okanagan.
WHEN
Friday, september 9th, 2016 from 1:30pm-onwards
WHERE
Rotary Centre for the Arts
COST
$100 (includes free appies & 1 drink ticket)
WEBSITE
www.ourfuturecity.ca
SCHEDULE OF EVENTS
1:00pm-1:30pm: Registration
​
1:30pm-2:00pm: Welcome & Introduction by Kevin Edgecombe, UDI Okanagan Incoming President, and Mayor Colin Basran, City of Kelowna
​2:00pm-3:00pm: Keynote Address: Digital Transformation and the Future City
Keynote Speaker: Cameron Uganec, Sr. Director of Growth Channels and Education at Hootsuite Media Inc.
Description:
There is unimagined business disruption brought on by technology today. Mobile, social and real-time are accelerating the rate of change faster than we ever anticipated. Suddenly it's a world where your customers are always online, in any location on any device - learning and interacting with your brand.
This presents not just a shift in technology, but also a fundamental cultural shift. An entire generation is now maturing in the age of digital. From global brands to governments, consumers expect a different kind of interaction. Human. Transparent.
Cameron will explore how these trends are impacting cities and provide opportunities to the future growth and direction of Kelowna and the Okanagan.​
​3:00pm-3:15pm: Break with refreshments
​
3:15pm-4:15pm: Breakout Session #1:
Options include:
1. ​Architecture Debate
Speakers include:

Jim Meiklejohn, Meiklejohn Architects (Panelist)

Mike McDonald, Kasian (Panelist),

Brian Quiring, MQN Architects (Panelist)

Bob Evans, WSP/MMM (Moderator)
Description:
Architectural style is characterized by the features that make a building or other structure notable and historically identifiable. So what are some of the definable characteristics of Okanagan Architecture? Come hear from an assembled group of unique and talented Architects to discuss the many different types and styles of Architecture seen in the Okanagan today. Each architect will get a chance to feature some of their best work and discuss future projects and trends in the market. The panel will discuss how new technologies, changing interests and shifting tastes will drive future architectural styles.
2. Municipal Sales Pitch
Speakers include:
Doug Gilchrist, City of Kelowna (Panelist)

Dan Brown, WFN (Panelist)

Mark Koch, District of Lake Country (Panelist)

Brent Magnan, City of West Kelowna (Panelist)

Andrew Bruce, Melcor (Moderator)
Description: Join a panel of local and regional municipal representatives in a fun and engaging 'Municipal Pitch Off' where panelists discuss the merits of their respective municipality and why developers should choose to develop there instead of the surrounding areas.
3. Leading Campus Initiatives
Speakers include:
Dr. Keith Culver, UBC (Panelist)

Anthony Haddad, UBC (Panelist)

Dr. Andrew Hay, Okanagan College (Panelist)

Amy Vaillancourt,

Okanagan College (Panelist)

Ryan Smith, City of Kelowna (Moderator)
​Description: Come and hear about some of the exciting, innovative and leading edge initiatives that are happening at both the University of British Columbia and Okanagan College.
4. ReTech: The Future of Development Technology
Speakers include:
Dr. Kim Dotto, BCIT

Scott Chatterton, HDR CEI (Presenter)

Caesar Ruest, Autodesk (Presenter)
Description: Glimpse into the future of the way we build homes, communities and cities. Smart Homes? Smart Cars? Smart Cities! Hear Kim Dotto, Dean of Applied Research at BCIT present the innovative steps and research that will help retrofit entire cities into smart hubs. Walk through designs in Virtual Reality with Scott Chatterton, BIM Manager at HDR/CEI and chair of CanBIM International Committee. Scott will present the rapidly changing world of Augmented and Virtual Reality throughout the life of a development. After that, Caesar Ruest, will bring the full force of Autodesk future technologies from California. 3D printed buildings, future technology collaborations with companies and innovations that include Tesla vehicles, hyperloops, robots...did we mention Star Wars!?!!
4:15pm-4:30pm: Break with refreshments
​4:30pm-5:30pm: Breakout Session #2:
Options include:
1. Healthy Cities
Speaker include:
Dr. Marjorie Docherty, Mountain View Medical Clinic (Panelist)

Dr. Mark Fromberg, Mission Medical Centre (Panelist)

Mark Filatow, Waterfront Wines (Panelist)

Curtis Stone, Green City Acres (Panelist)

Martin Bell, Urban Systems (Moderator)
Description: This session will focus on creating healthy and sustainable communities by incorporating active living and local food production into our living spaces to enable people to live the long and happy lives they seek. With all that the Okanagan has to offer for both recreation and agriculture, the creation of communities that foster healthy and sustainable living habits will prove to be increasingly important when marketing to buyers with an increasing awareness of their health. Panelists include Curtis Stone, a leader in the urban agriculture movement, Mark Filatow, an acclaimed chef who fosters early food awareness through school programming, Dr. Marjorie Docherty and Dr. Mark Fromberg, both medical health practitioners.
2. Demographic Shift – Opening the Retirement Gates
Speakers include:
Barry Johnson, Canadian Adult Communities, Predator Ridge, Ariva Resorts (Panelist)

Sam Richards, Intelligence House (Panelist)
Description: Join Sam and Barry as they share some of their key insights into the changing demographics and future of retirement housing needs in the Okanagan. They will discuss some of the unique buyer preferences and how the future Baby Boomers will make their housing purchasing decisions. Find out what the current and future demand is in the Okanagan area for seniors' housing, including the different levels of care and amenities provided.
3. Density Debate: What, Where and Why?
Speakers include:
Daniel Engelman, Honomobo (Panelist)

Tara Tschritter, The Little House Contracting Corp. (Panelist)

Kevin Edgecombe, Edgecombe Builders (Panelist)

Rocky Sethi, Anthem Properties (Panelist)

Shane Styles, Folio Building Group (Panelist)

Shane Worman, Worman Resources (Moderator)
Description:
Join a panel of experts as they discuss density and the age old question of whether it is better for a city to build up or to build out, taking into consideration the unique features of Kelowna and the Okanagan. Are NIMBY's Batophobic or Agoraphobic? Is it better to fuel the fear of tall buildings and increase density through high rise buildings? Should we add to the terror of more people in smaller scale open spaces? Many questions arise in finding appropriate solutions to critical housing issues like affordability and urban sprawl. Some of the issues covered in this panel discussion will include affordability, market demand, transportation and parking considerations, infill development, amenities and typology versus typography.
5:30pm-7:30pm: Wrap-up and networking reception in Rotary Centre for the Arts South Atrium (appies & 1 drink ticket provided)
​7:30pm: After party at BNA: 7:30pm-onwards (you are responsible for your own appies & drinks)
For more information
please visit: www.ourfuturecity.ca
​
7:30pm-onwards: After party at BNA (you are respon for your own appies & drinks)