About this Event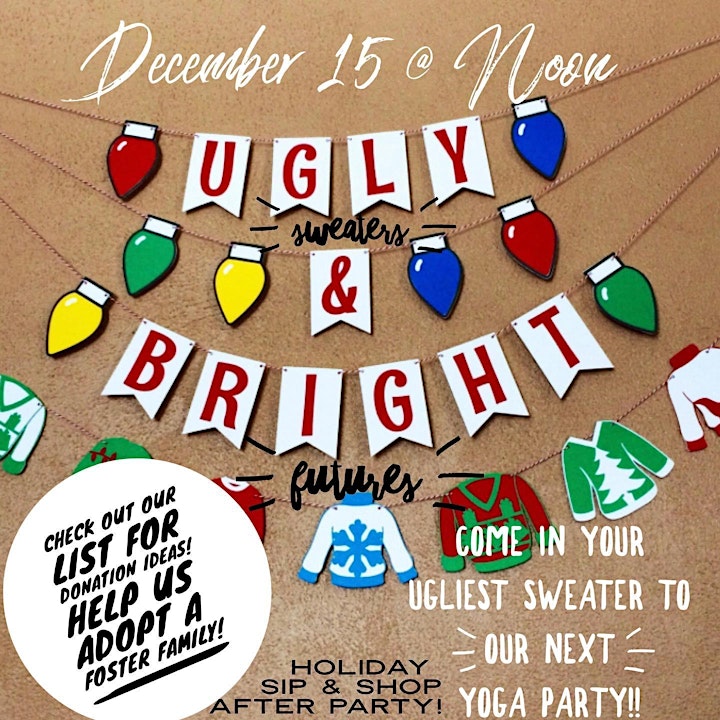 December 15 at 🕛 noon!!!
Mark your calendars for our next UGLY & BRIGHT ✨SWEATER | NAMASTE FOR OUR FUTURE @yogapartylive event!!
And this one gives us all the feels 🥰
We always provide a free, judgement free, living space by hosting our community yoga parties, and now it's time we ask the community to give back!! Raffle for the Ugliest sweater!!!!
✨
We are adopting a foster house in San Tan Valley, called Kenzie's Place. They have 10 🤪 kids! 4 girls ages 11-18, and 6 boys ages 10-16!
Being involved with this gives us an immense feeling of love. It's something pretty close to me, as one of the girls that was placed here for a short while, is now in the loving, caring arms of one of my besties. I have followed along and supported her hard journey, and know that these kids are GEMS 💎 especially when they are rarely given the opportunity to be at a home like Kenzie's Place.
Below is a list of ideas!! Please come, support, love, and yoga!!! 🧘‍♀️
Some item ideas would be:
•Personal hygiene like razors, shaving cream, shampoo/conditioner, lotion, face wash etc- Even something fun like face masks!
•girly hair stuff/earrings/ necklaces / brackets, curling irons, blow dryers etc
•Maybe haircuts for the boys, and nails for special events like a dance or Prom for the girls
•Light Up Signs or the letter boards that everyone has
•Pop Sockets
•Harkins loyalty cup with a Harkins gift card
•Girls: Bath & Body works sets
•Boys: cologne/ after shave sets
•Socks are ALWAYS good
•Gift cards are always good so that the kids can buy things for themselves: Target, Tillys, Zumiez,Starbucks, Dutch Bros, Ross, Walmart, Famous Footwear
•Cozy blankets
•Christmas pajamas
•Crafts for one of the younger boys and younger girls
✨
We think we can make that happen?!! We believe so! Please bring your item unwrapped 👍
Thinking of adding a little Holiday sip and shop at the studio after, maybe a little mimosa and a raffle too?! Tag your bestie to mark this ishhhhh on your calendar 📅 now!