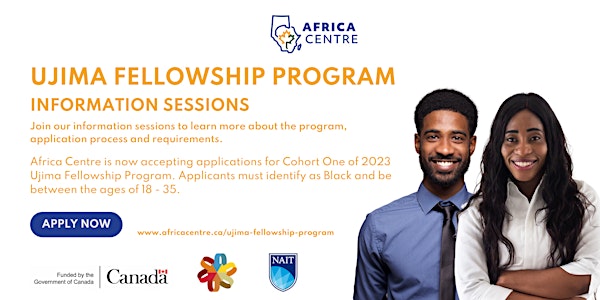 Ujima Fellowship Program: Cohort One of 2023 Information Sessions
An Information Session to ensure success with application process and participation in the Ujima Fellowship Program
About this event
Africa Centre is now accepting applications for Cohort One of 2023 Ujima Fellowship Program! Applicants must identify as Black and be between the ages of 18 - 35.
To apply, visit www.africacentre.ca/program-participants
Application deadline is December 31, 2022.
Join the Information Sessions to ensure success with application process and participation in the Ujima Fellowship Program
Scope of Information Sessions
Learn more about the program
The program components
Application process
Requirements and eligibility
Direct interaction with Program Coordinator and real time response to questions
About Ujima Fellowship Program
The Ujima Fellowship is a leadership development program that aims to address structural racism and inequity by creating opportunities for diverse representation within advisory or decision making entities.The aim is to support young Black leaders between the ages of 18 - 35 who demonstrate willingness to develop leadership skills and want to serve on advisory or policy-making platforms.
For more information, visit www.africacentre.ca/program-participants or contact us via email on ujima.fellowship@africacentre.ca
Schedule and Zoom meeting details
Join via Zoom on any day that suits you (multiple attendance is allowed)