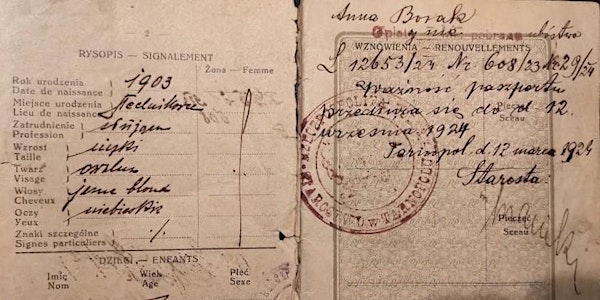 Ukrainian Genealogy
A 2-part series showing you how to locate Ukrainian genealogical resources, followed by a case study to demonstrate their use.
About this event
The war in Ukraine has created a lot of concern about the ability to conduct Ukrainian genealogy research, however, the latest news is the war has pushed the effort to digitize Ukrainian archive records at a speed never seen before. This two-part series on researching Ukrainian family history will will review the country's geography and history, explain how to locate and access Ukrainian genealogical resources and demonstrate their use in a case study.
Each session will consist of a presentation and an opportunity to ask questions.
Note: The lectures will be recorded, so that registrants who can't attend the live presentations may watch at a more convenient time.
Nov. 23, 7:30 pm: Genealogical Research in Ukraine
More and more records are going online each day as FamilySearch International and activist Alex Krakovsky have been digitizing these records. Ukrainian genealogy is finally becoming more accessible, thanks to these efforts.
Not only archive records are going online, searchable databases have been created to learn about the WWII period and communist persecution era. Whispers and rumors about the experiences of relatives and ancestors during these times can finally be confirmed or denied. Ukrainian genealogy does require getting comfortable with websites in Ukrainian. This webinar will show how that is possible without knowing Ukrainian by using Google Translate, in addition to detailing the latest news in Ukrainian genealogy and showing the best websites and resources available online.
Speaker: A Penn State University graduate of journalism, Vera Ivanova Miller previously worked as a local newspaper reporter and freelance magazine writer. She became interested in genealogy while staying home to care for her two children. Growing up with a small family in the USA made her curious about her family in Ukraine and Russia and her ancestry from Ukraine, Russia and Poland. Using her research skills gained from her experience as a newspaper reporter, she has found many cousins in Ukraine and Russia, resources to tell the stories of her ancestors and professional researchers to push her family tree back to the 1600s. Vera has been writing about her journey in Ukrainian and Russian genealogy since 2011 on Find Lost Russian & Ukrainian Family. She is the author of Genealogy at a Glance: Ukrainian Genealogy Research and Genealogy at a Glance: Russian Genealogy Research.
Nov. 30, 7:30 pm: In Search of our Past: My Parents as Case Studies
This session will be a case study. Dr. Marianne Fedunkiw was born in Toronto to Ukrainian parents, and grew up celebrating her heritage, including attending "Ukrainian school" on the weekends. Her father was born in the Ukraine and came to Canada as an adult. Her mother and her sisters were first generation Canadians. In recent years, Marianne has been working on researching and writing about her family and communicating with relatives who stayed "back home". She will review documents and other sources and what they have helped her discover about her family's history.
Speaker: Dr. Marianne Fedunkiw is a Toronto historian, writer and playwright. She has an MA in journalism, and a PhD in medical history. She has written three books, and more than 75 articles on topics ranging from ice hockey to medical history. In addition to writing for various medical publications and the Globe and Mail, Marianne was part of the team that started the Discovery Channel in Canada. Marianne currently works as a communications consultant within the university and healthcare sectors.
For more information visit our website at
http://torontofamilyhistory.org/event/ukrainian-lecture-series/