Ultimate Lifestyle Makeover MYBUCKETLIST Workshop for Interculturalists
Online Group Coaching Workshop of the 12 steps M.Y.B.U.C.K.E.T.L.I.S.T. formula for Intercultural professionals.
About this event
When was the last time you ticked something off your Bucket List? 3...2...1... too long ago?
Staying at home doesn't mean we can't get busy on our Bucket List. In fact, when the world around us stops for a while, it is the perfect time to pause and reflect on what actually makes us truly fulfilled and happy. It is the perfect time to step out of our busy lives to work on our best life. It is the perfect time to work on our Bucket List. Do not miss the opportunity to make and get the most out of your life, let's do it together.
Take this workshop or better said soul-shop the 12-steps M.Y.B.U.C.K.E.T.L.I.S.T. for intercultural, cross cultural and cultural intelligence coaches, trainers and consultants. This event will be even more fun since we embrace and teach the diversity of concepts and approaches to life and lifestyle.
Almost every one of us has a large variety—and diversity-- of individual goals, dreams, desires and experiences that we wish to achieve which may be short or long term—or "end of term"-- depending on the outlook and design of one's life. Unfortunately, most of these goals, plans, and dreams end up not being fulfilled due to many issues and problems, especially regarding lifestyle and career planning.
The basic idea of M.Y.B.U.C.K.E.T.L.I.S.T is therefore to get individuals to take time out their career-oriented, rat race, hamster wheel and too busy life, AAAND work on their life separating their bucket lists from their to-do lists. ANND since we are all globally oriented, internationally savvy and travelers it will be really a joy activation event.
Let's stop postponing and procrastinating dreams and goals to 'some day maybe', and instead take action right here right now. Let's turn intangible dreams into tangible goals that can be achieved through a right mindset and motivation.
The 12-steps M.Y.B.U.C.K.E.T.L.I.S.T. blueprint is based on a holistic approach towards life. It will guide you through a process of selecting and identifying a broad range of activities that will bring you fulfilment and Joy.
TBased on the latest principles of positive psychology, goal-setting techniques, accountability hacks, mental health boosters, and personal development strategies, I will teach you how to
✅Find more purpose, meaning, and fulfillment in life
✅ Become a successful goal-achiever in every area of your life
✅ Break your big intangible goal down into tangible bites
✅ Experience immense personal & professional growth by finding joy outside your comfort zone
✅ Improve your social, corporate & romantic relationships as a ripple effect of being more 'high on life'
✅ Live a life filled with more fun, happiness, and adventure.
Show up it is based on donations. for a life changing workshop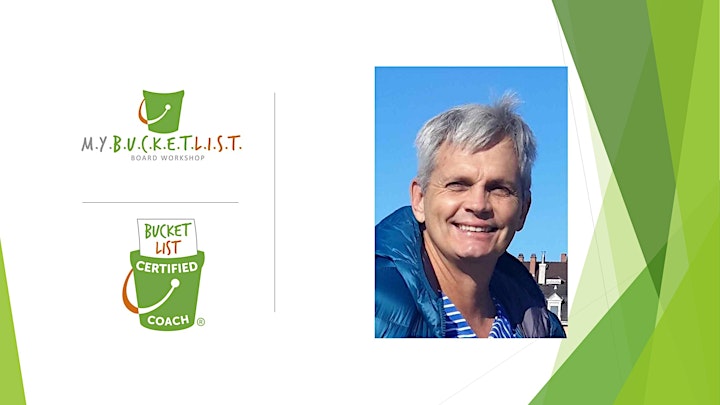 What you need:
● Free Zoom account ( an account is not required but a camera is highlz recommended ) .
● Download Adobe to edit your personal vision board
● Stable internet connection
● Printer to print your Bucket List vision board
● Hopes & dreams
Stop saying 'tomorrow' and take your first step of action to live your best life!
Organizer of Ultimate Lifestyle Makeover MYBUCKETLIST Workshop for Interculturalists