UNA-Canada: Women Leaders in Diplomacy - a High Level Panel

Friday, 9 March 2018 from 10:30 AM to 12:30 PM (EST)
Ticket Information
This event is invite-only
Event Details
"Achieving Peace through Women's equality and empowerment" - United Nations Association in Canada (UNA-Canada) presents a High Level Panel in recognition of International Women's Day and as part of UNA-Canada's 15th Canadian International Model United Nations (CANIMUN 2018).
Recognizing the key role of women in diplomacy, and marking Canada's G7 presidency in 2018, UNA-Canada will convene high-level diplomats from the G7 countries to showcase successful strategies for women in leadership. These are the strategies that ensure equality between women and men as partners in diplomacy as well as providing a focus on the crucial role this dynamic plays in inter-governmental relations with respect to human rights, humanitarian action, and peace and security.
Introduction 

Kate White, President & CEO United Nations Association in Canada
Welcome
Oonagh Fitzgerald, Director of the International Law Research Program, Centre for International Governance Innovation 
Panelists
Peter Boehm, Deputy Minister and Sherpa for the G7 Summit 
Leslie M. Lawson, Department Homeland Security (DHS) Attaché To Canada at US Federal Government 
Fabrizio Nava

, Minister Counsellor, Italian Embassy in Canada

Kareen Rispal, French Ambassador to Canada
Eugen Wollfarth, Minister and Deputy Head of Mission, German Embassy in Canada

Susan le Jeune d'Allegeershecque,

British High Commissioner to Canada
 Thank You 
Pierre Seïn Pyun, Vice President, Government Affairs for Bombardier Inc., Bombardier Aerospace and Bombardier Transportation
 This high level panel is an opportunity to hear from diplomatic leaders from the G7 countries, and learn about and be inspired by their strategies to support and advocate for gender equality.
*This High Level Panel is free (no ticket required) for CANIMUN Delegates.
 This event is made possible with the generous support from: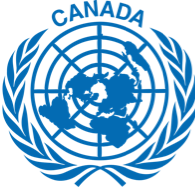 Organizer
Who we are
The United Nations Association in Canada (UNA-Canada) is an historic, national charitable organization providing the leading policy voice on multilateralism in Canada. Established in 1946, UNA-Canada was a founding member of the World Federation of United Nations Association and today holds its elected Vice-Chair representing global civil society.
 Our Mission and Vision
Our mission is to educate and engage Canadians in the work of the UN and the critical international issues that affect us all. We believe that a strong and effective United Nations is essential if we are to secure a future based on equality, dignity and justice for all. UNA-Canada is dedicated to promoting constructive Canadian participation in the United Nations system and to growing global citizens in Canada who embrace the principles of the UN Charter.
Our Work
UNA-Canada engages citizens and decision makers at every level of Canadians society. We invest across generations, bringing empathy-based educational resources on health, citizen education, diversity, peace and the environment to both the best and the brightest and to most marginalized youth within Canada and in the world's poorest countries.
We meet our mandate with a national network of branches, volunteers and education programmes that are inspiring and mobilizing Canadians in support of the principles and critical work of the UN. By growing global citizens, we are building a stronger, more outward looking Canada ready to accept the greatest challenges of our time.