Envisioning curation as a form of care, bringing together six artists from the Mad, Deaf and disability community
About this event
Join us for an online conversation between the artists in the group exhibition Undeliverable. Envisioning curation as a form of care, the exhibition brings together six artists from the Mad, Deaf and disability community, Vanessa Dion Fletcher, Chandra Melting Tallow, Jessica Karuhanga, Jes Sachse, Aislinn Thomas, and Carmen Papalia with Heather Kai-Smith, re-envisioning the museum around the demands and desires of the disabled body/mind.
This talk and exhibition are presented in partnership with Tangled Art + Disability and The Robert McLaughlin Gallery.
ASL Interpreters for the event:
Gaitrie Persaud
Sage Lovell
If you have any accessibility concerns or would like more information about this event please reach Jet Coghlan:
jet@tangledarts.org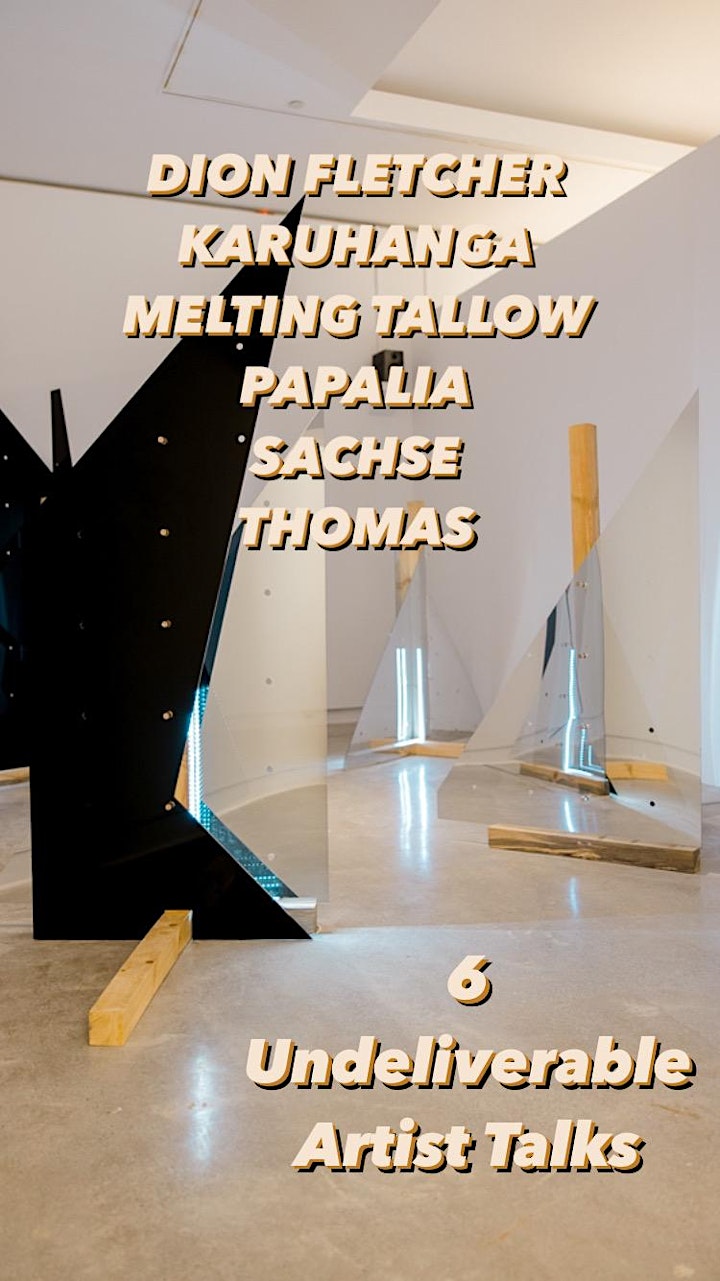 Image description: image depicts Jessica Karuhanga's large scale sound and sculptural light installation at the Robert McLaughlin Gallery in large sharp mirrored black and clear blue lit plexiglass angles against gallery white and taupe hues with the six last names of the artists in Undeliverable listed down the image, followed by "6 Undeliverable Artist Talks"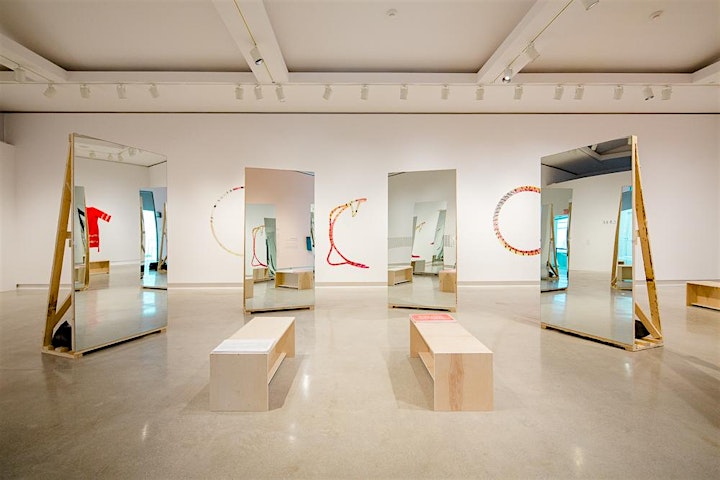 Image Description: Undeliverable exhibition at the Robert McLaughlin Gallery, 2021. The image is horizontal. In the foreground you see two wooden benches facing "Reflection Circle" by Carment Papalia. In the middle ground a series of 4 mirrors that reflect all angles of the benches. In one of the mirrors to the left you can see the reflection of Chandra Melting Tallow red dress called "Blood Count". In the background you can see Vanessa Dion Fletcher "Relative Gradient, Home Return and Relative Saturation" all images extended printed in vinyl
Undeliverable exhibition at the Robert McLaughlin Gallery, 2021. Documentation by Michelle Peek Photography and courtesy of Bodies in Translation: Activist Art, Technology & Access to Life, Re•Vision: The Centre for Art & Social Justice at the University of Guelph.