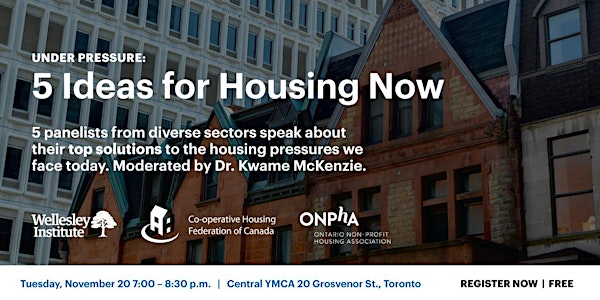 Under Pressure: 5 Ideas for Housing Now
Event Information
Location
YMCA - Metro YMCA
Auditorium
20 Grosvenor Street
Toronto, ON M4Y 2V5
Canada
Description
SOLD OUT | Thank you those who confirmed attendance to #UnderPressureTO. Walk-in registration will be available on the day of the event. If tickets are available, waitlisted attendees will recieve an email with an option to attend or give up their spot in line.
---
Rents are at an all-time high, newcomers and young people can't afford to live in the city, and people who need subsidized and supportive housing are being left in the cold. From affordability problems and precarious housing to homelessness across the region – housing is a big issue in the GTHA, that requires a government response.
We have new political leaders, strategies, and housing talk at all 3 levels of government – so what's next? National Housing Week, Nov 19 – 23, is an opportunity to talk about these issues.

In a panel discussion, moderated by Dr. Kwame McKenzie, CEO of Wellesley Institute, housing experts with a range of experiences tackle these issues head-on and share their #1 idea for what the city, province or federal government should to do right now to address the housing crisis.
Light refreshments will be served.

This event is free but registration is required. Doors open at 6:00 p.m.
---
Event Details
Date: Tuesday, November 20, 2018
Time: 7 p.m. – 8:30 p.m. (registration begins 6:30 p.m.)
Location: Toronto Central YMCA, 20 Grosvenor St.
Moderator: Dr. Kwame McKenzie, CEO of Wellesley Institute
Panelists:
Sarah Jama, Disability Justice Network of Ontario
Pedro Barata, United Way Greater Toronto
Simone Swail, Co-operative Housing Federation Canada
Steve Gaetz, Canadian Observatory on Homelessness
Lori-Anne Gagne, Victoria Park Community Homes
This event is proudly co-presented by Wellesley institute, Co-operative Housing Federation Canada and Ontario Non-Profit Housing Association.
---
Wellesley Institute is committed to creating an environment that is inclusive of all persons and treats all members of the community in an equitable manner. If you require information in an alternative format, or have concerns related to the accessibility of this event, please contact us at contact@wellesleyinstitute.com.
Date and time
Location
YMCA - Metro YMCA
Auditorium
20 Grosvenor Street
Toronto, ON M4Y 2V5
Canada