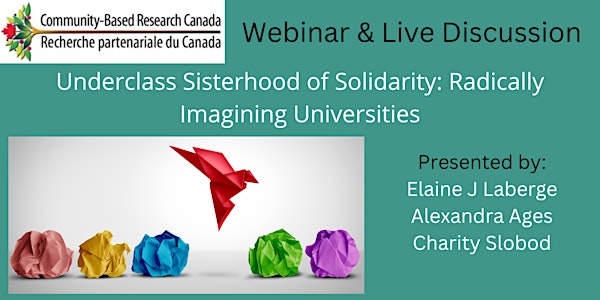 Underclass Sisterhood of Solidarity: Radically Imagining Universities
Join CBRCanada to learn about a research project that re-imagines universities as inclusive to those whose lives are shaped by poverty
About this event
Webinar
This CBRCanada webinar and live discussion is part of our fall series: Celebrating Community-Based Research Excellence. In this series we will highlight examples of excellent Community-Based Research by spotlighting the previous winners and nominees of CBRCanada awards.
In this event, presenters will reflect on findings from the award-winning community-based research doctoral project titled "Pushing Privilege Pillars in Canadian Universities". The foundation of this project is based on the creation of a grassroots program www.shoestringinitiative.com that supports students whose lives are shaped by (generational) poverty in Canadian Universities. In this project, a group of women (The Underclass Sisterhood of Solidarity; USS) came together to address the wicked problem of limited access to higher education for poverty-class students, despite higher education being essential to mitigate poverty across generations. USS tackled the myth of the classless society and the taboo subject of social class within this community-based research project which culminated in the radical imagining of a social innovation model to demonstrate to Canadian universities how to fully support this oft-overlooked domestic population from trauma-informed, decolonial, and strength-based lenses
In this webinar, attendees will delve into dominant social class narratives, wade into the messiness of classism on the higher education landscape, explore the rich mosaic of diverse knowledge systems, and engage in radical community-based imagination to support poverty-class students in higher education. Join USS members as we collectively radically imagine Canadian universities as sites that are inclusive of those whose lives are shaped by poverty.
Live Discussion
Following the presentation, CBRCanada will facilitate a live discussion to explore implications for practice. Breakout groups will be facilitated by webinar presenters. The event will conclude with a large group report-back dialogue. The live discussion will not be recorded. CBRCanada will share an infographic highlighting key discussion themes following the event.
Presenters
Elaine J Laberge, PhD. Founder & Director, Shoestring Initiative; LivEx Network Coordinator, Making the Shift Youth Homelessness Social Innovation Lab
Alexandra Ages, MA. Executive Director, Council of Alberta University Students
Charity Slobod, MA. Community Connect Lead & Professional Development Coordinator, Faculty of Graduate Studies & Research, University of Alberta
This event will take place in Zoom meeting format. A zoom link* will be sent out by email prior to the event via eventbrite. If you do not receive the link, access will also be available on the eventbrite platform. Use the email you registered with to login. For questions, please email amanda@communitybasedresearch.ca in advance of the event.
We hope to see you there!
The CBRCanada Team
Bios:
Elaine J Laberge is a sociologist who focuses on poverty discrimination in Canadian universities and more broadly in society. Her research focuses on "poverty-class" students and demonstrates how universities can support them from the grassroots to structural level change. She is the founder and director of ShoestringInitiative.com which is the first-of-its-kind grassroots movement to support students from poverty in higher education. Elaine is currently on contract with Making the Shift Youth Homelessness Innovation Lab which is a national organization that supports research to prevent and end youth homelessness. Elaine is a professional graphic designer who is known for her engaging knowledge mobilization and translation communication strategies and designs. She is a poet and aspiring playwright and documentary filmmaker. Elaine currently resides in Victoria with her cat Emma.
Alexandra Ages currently lives in Treaty 6 territories, also known as Edmonton, Alberta, where she enjoys the wide prairie skies and snowy days. Working as the Executive Director for the Council of Alberta University Students, Alexandra is deeply privileged to support student leaders from universities across Alberta in efforts to make post-secondary more affordable and accessible. Having obtained her Master of Public Policy degree from McGill's Max Bell School of Public Policy, Alexandra is deeply passionate about the intricacies of political capital and public policy in regards to the post-secondary sector. Previously, Alexandra obtained her B.A from the University of Victoria, becoming the first of her family to obtain a university degree, after having worked throughout her time as an undergraduate student at the University of Victoria Students' Society food bank.
Charity Slobod is the Community Connect Lead and Professional Development Coordinator for the Faculty of Graduate Studies and Research at the University of Alberta. For more than ten years, she has worked in the field of community outreach and engagement with a particular focus on supporting graduate students in developing effective strategies for sharing their research with non-specialist audiences. Although that's her professional scope, she cares deeply about collaborating with others to make profound societal change. Being involved in several community initiatives, her own experience with poverty keeps her drive never ceasing.
*This event is intended for CBRCanada members only. If you are employed, studying, or affiliated with any CBRCanada member institution/organization, you are already considered a member. If you are unsure if your institution is covered, learn more here. Individuals whose institution is not on this list are welcome to register as an an individual member. We value community participation and have a free membership option for registered community mobilizers.