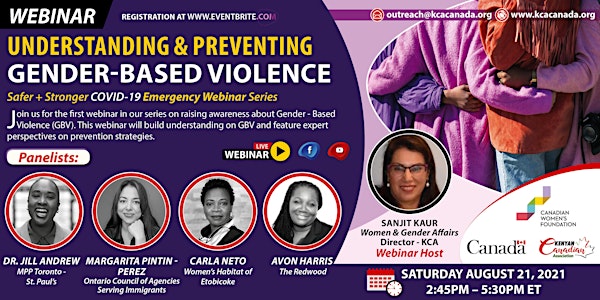 Understanding and Preventing Gender-Based Violence - A Webinar
Webinar Series: Understanding and Preventing Gender-Based Violence
About this event
The KCA is proud to announce the launch of a new webinar series focused on spreading awareness about Gender-Based Violence.
Join us for the inaugural webinar:
Understanding and Preventing Gender Based Violence
August 21st, Saturday at 2:45pm to 5:30pm ET
This free and inclusive event will feature expert panelists to address the impacts of Gender-Based Violence, introduce preventative strategies, and provide restorative resources to those affected.
This webinar series is supported by funding from the Government of Canada through the Canadian Women's Foundation, Safer + Stronger COVID-19 Emergency grant.
If you have any questions or concerns regarding gender-based violence, please contact outreach@kcacanada.org
If you have any questions or concerns regarding the webinar series, contact ict@kcacanada.org
Look out for the remaining webinars in this series coming soon:
Survivors and Family Support & Intervention
Legal and Justice System
Gender Based Violence and the Media
Gender Equality and UN Women's HeForShe
The KCA is dedicated to implementing programs and offering services to newcomers, vulnerable families, visible minorities, and socially-excluded groups residing in Canada. Learn more at www.kcacanada.org