Event Information
Location
1135 Nelson St
1135 Nelson Street
Nanaimo, BC V9S 2K4
Canada
Free Workshop on Zoom for Families and Caregivers on Vancouver Island - Understanding Anxiety - ages 0 to 12
About this event
In Partnership, Pacific CARE and the Nanaimo Child Development Centre are hosting a virtual workshop with Facilitator Carrie Liske, MA, RCC. Carrie will be presenting on understanding anxiety. She will discuss environments and how they influence our little ones' anxiety; along with exploring triggers and being aware of our own reactions, responses, and anxiety. Carrie will also be sharing 'Tips and Tools" to assist you in your role and the session includes a Q & A time to enhance your learning.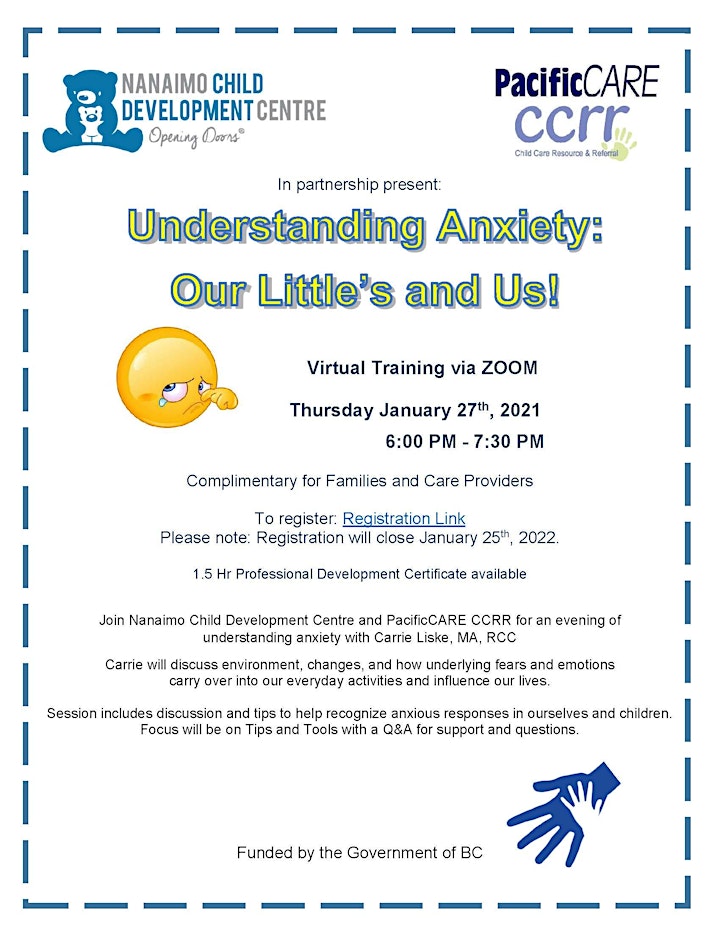 FAQS
How do I get into the virtual workshop?
You will receive a couple of emails, one that will confirm your registration and then one a few days prior to the event with the link to the Zoom Session. You will just need to click this link day of the workshop and it will take you into a waiting room where you will be invited in by the host.
Who do I talk to about help setting up my zoom if I've never used it before?
You can just go click the link to join in or some have found that it works better when you download the app onto the device you will be using. Zoom is an easy app to download if you go to - https://zoom.us/download pick the device you'd like to have the app downloaded on and click that button.
If you require more info or help understanding how to set up and use the zoom technology, we can help you over the phone. Please email Kimberlee at kimberlee@nanaimocdc.com or text/call 250-618-5640 to set up a time to chat.
Do I need to bring anything to the workshop?
A notebook and pen are always helpful. The slides and resources shared will be sent to you at the end of the workshop via email.
Others have shared they found it helpful to have a headset for listening and joining into Q & A sessions.
Can I get an educational certificate after attending this session?
Yes, you can request one through your registration process, or at the end, you can make this request in the workshop chat as well.
If I have any questions who should I contact?
If you have any questions please contact: Kimberlee Howland - Family Resource Navigator at the NCDC via 250-618-5640 or kimberlee@nanaimocdc.com or Deanne McKinney - CCRR Child Care Consultant at PacificCARE via 250-756-2022 or Dee@pacific-care.bc.ca
Date and time
Location
1135 Nelson St
1135 Nelson Street
Nanaimo, BC V9S 2K4
Canada