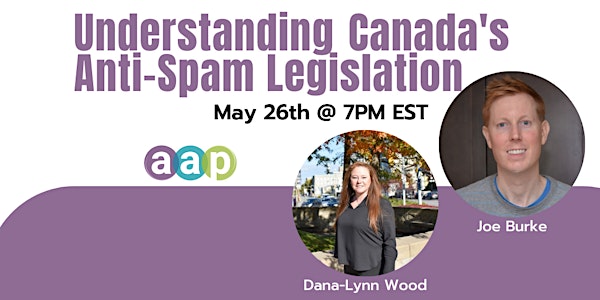 Understanding Canada's Anti-spam Legislation
Join this session to better understand Canada's Anti-spam Legislation
About this event
When Canada's Anti-spam Legislation (CASL) came into force in July of 2014, the law introduced new requirements for businesses when sending commercial emails to consumers. Join this session with representatives from the Canadian Radio-television and Telecommunications Commission (CRTC) to better understand your obligations under the Act and to hear what Canadians are reporting to the Spam Reporting Centre.
Presentation Outline:
· CRTC's Approach to CASL Enforcement
· Complaints Received from Canadians
· Recent Enforcement Actions
· Your Obligations:
o Consent, Unsubscribe, and Identification Requirements
o Liability for Businesses
o Record Keeping
· Due Diligence and Compliance Tips for Businesses
· Question Period
BIOGRAPHIES
Dana-Lynn Wood, Senior Advisor, Compliance and Enforcement (CRTC)
Dana-Lynn joined the Compliance and Enforcement Sector at the CRTC in July 2012 to assist the team with the development and implementation of the CASL enforcement program. Since joining the Commission, Dana-Lynn has also worked on enforcing the Unsolicited Telecommunications Rules and worked directly for the Chief Compliance and Enforcement Officer advising on enforcement policy and compliance issues. Dana-Lynn is currently responsible for domestic and International partnership development for the Electronic Commerce and Telecommunications Enforcement divisions.
Before joining the CRTC, Dana-Lynn previously held a position at Industry Canada in the National Anti-spam Coordinating Body, helping guide Bill C-28 (CASL) through the parliamentary and regulatory process.
Joe Burke, Senior Enforcement Officer, (CRTC)
Joe has been a senior enforcement officer in the Electronic Commerce Enforcement division of the CRTC since 2018, where he investigates potential cases of non-compliance with CASL and takes enforcement action when necessary. Joe has developed a variety of guidance material to support the industry in complying with CASL. Prior to joining the CRTC, Joe worked at the Department of National Defence as an internal auditor, where he reviewed policies, programs, and processes throughout Canada, and at missions abroad, and advised senior military and civilian leadership on matters relating to corporate and operational risk.