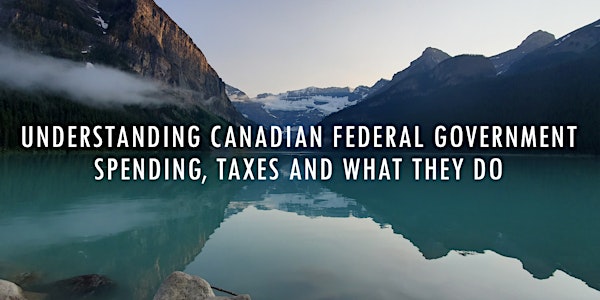 Understanding Canadian Federal Government spending, taxes & what they do
This class is an introduction to the Canadian Federal Government's role in the federation, its departments, programs, spending, taxes & debt
Refund Policy
Contact the organizer to request a refund.
Eventbrite's fee is nonrefundable.
About this event
Do you want to know more about where your taxes go?
Join us for this class about the Canadian Federal Government and learn about what it does, its structure, the programs it spends money on and how it pays for those programs through taxation and borrowing. By taking this class you will:
- Be able to speak to the number and type of federal government departments and agencies, including Crown Corporations such as the Bank of Canada
- Be able to name the largest programs covered by the Federal government
- Be able to explain the most important taxes that cover government expenses
- Be able to speak to the size of past, present Federal government debt levels, deficits, and interest payments
- Be able to speak to how Canada compares to certain other countries when it comes to spending and taxes
Whether you are new to the country, a life-long learner, or curious about government finances and have questions you would like to ask, this class is for you.
The class is 1 hour long with 15 minutes at the end for questions. This course is taught as an introduction to the topic. No background knowledge is necessary.
About UNDERSTANDING:
Understanding is an education company that offers classes on important subjects that are not often taught. Our goal is to help you better understand the world around you.
Contact info:
LinkedIn: www.linkedin.com/company/understandingyourworld
Email: christoph.schultz@understandingyourworld.ca