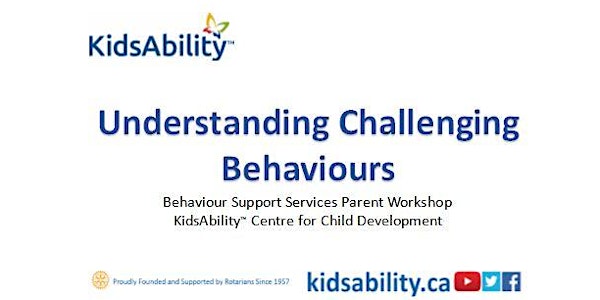 Understanding Challenging Behaviours - Virtual Workshop
Sales Have Ended
Registrations are closed
Thank you for registering for our event.
Please join us for a free virtual workshop exploring the ABC's of behaviour and supporting challenging behaviours.
About this event
Please follow our page for future training opportunities.
KidsAbility™ Centre for Child Development is pleased to offer this parent/community involvement opportunity through Foundational Family Supports.
Understanding Challenging Behaviours
In this workshop we cover information that will help you to understand and manage your child's challenging behaviours using the principles of applied behaviour analysis (ABA). Please note this is an introductory level workshop designed for parents and caregivers in the Ontario Autism Program. Community members welcome (limited availability).
Does your child exhibit challenging behaviour that is hard to manage? It can be hard to know what to do when your child has challenging behaviours that interfere with learning, functioning in their daily routine, or developing positive social relationships. You may even feel worried that your child might hurt themselves or someone else. Sometimes children have challenging behaviours and it's hard to know why it happened or what to do about it. In this workshop, we will discuss types of challenging behaviour and the ABCs of behaviour so that you can understand why your child may be having challenging behaviours. We will discuss how you can use this information to develop strategies to reduce those challenging behaviours.
We look forward to sharing this information with you to increase your and your child's success!
Session occurs on Zoom, hosted through the Eventbrite page. After registration you will receive an email, as well as day of reminders. These emails will have a link to the Online Event Page, you will need to be signed into your Eventbrite account to access the page. You will not receive a Zoom invite from our presenters. Please attend via the Online Event Page at Eventbrite.
Families who are registered with the Ontario Autism Program are requested to include their OAP reference number(s), to ensure we are best meeting the needs of our community.
There is limited availability for community members and registration may be limited to people who live in Ontario, Canada.
FAQs
This workshop is being offered live online on the Zoom platform through Eventbrite's online event page.
The following internet speeds are needed to connect to Zoom:
800kbps/1.0Mbps (up/down) for high quality video
For gallery view and/or 730p HD video: 1.5Mbps/1.5Mbps (up/down)
If you are unsure if your internet speed meets the requirements, please visit fast.com to test your internet speed.
For more information on Zoom please visit their website here.
Will I receive a certificate for attending this workshop?
At this time we do not issue certificates for our free virtual workshops.
I have my children with me, can I still attend?
Yes! We know this challenging time presents challenges with child care options. When you log in to the session, your video and audio will be turned off. You will be able to see the presenters and the presentation and hear them speak but no one will hear or see you.
Will I be able to ask questions during the session?
Yes! Zoom has a chat function and you will be able to message the facilitators privately with your question during the session. The facilitators will then read the questions and answer them. We will pause at a few points in the presentation to discuss questions that come up along the way and there will also be a question and answer period at the end.
I am a community member and would like to attend?
Absolutely! We understand the importance of creating a learning environment for families as well as their support networks. Past attendees have included daycare and school staff, grandparents, and professionals from other industries hoping to learn more. We request that you only register through our community partner ticket type. Limited tickets available.
I am no longer able to attend this training. Who do I contact?
As there may be a waitlist for this event, if you are no longer able to attend this training please contact us using the "Contact the Organizer" button, or if you are already a client of Behavioural Support Services, please feel free to contact your Family Support Worker/Social worker, the Behaviour Support Services Supervisor, or your child's BCBA.
How can I contact the organizer with any questions not answered here?
Use the below "Contact the Organizer" button, or if you are already a client of Behavioural Support Services, please feel free to contact your Family Support Worker/Social worker, the Behaviour Support Services Supervisor, or your child's BCBA.
I require an accommodation, who can I contact?
Please reach out to the event organizer, so that we can discuss the best way to support you.