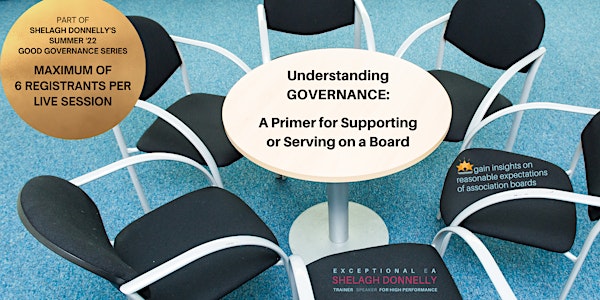 Understanding Governance: A Primer for Supporting or Serving on a Board
Refund policy
Contact the organizer to request a refund.
Eventbrite's fee is nonrefundable.
SUMMER '22 GOVERNANCE SERIES : CAP OF SIX REGISTRANTS PER COURSE - Understanding Governance: A Primer for Supporting or Serving on a Board
About this event
Understanding Governance: A Primer for Supporting or Serving on a Board, with Shelagh Donnelly; 90 minutes
* Please note this is part of Shelagh's Summer '22 Governance Series. Register for individual courses at $150 US each, or for the full series for $500 US.
Shelagh has capped registrations at six people per session, giving you a small group online setting for learning and development. Registrants are invited to ask questions and raise discussion of challenges they may be encountering. To support confidentiality, you're welcome to email brief questions/challenges prior to our live session.
There are many good reasons for paying attention to governance, exploring what boards do and how they function. You'll find this webinar helpful if you're interested in any of the following.
Supporting a board
Increasing your strategic acumen
Understanding governance principles for network and association boards
Considering putting yourself forward for service on a board
Supporting a board: Are you wanting to increase your strategic acumen by understanding how and why boards function? You may already support a board and want to enhance relevant expertise, or you may want to explore the governance career path for executive assistants.
Increasing your strategic acumen: Perhaps you and your executive produce deliverables that wind up in front of a board. Wouldn't it help to more fully understand a board's responsibilities and why a board establishes certain expectations?
Understanding governance principles that should guide your professional association/peer network board: If you're a member of an association with its own board, and would like to understand what to expect of the board, this session will give you valuable insights.
Understanding expectations of you should you serve on a board: If you're considering putting your name forward as a potential board member, you'll want know what your prospective stakeholders should reasonably expect of you.
Whatever your motivation, this course will give you a solid introduction to the world of governance. You'll come away with an understanding of the distinctions between board, management and staff roles and accountabilities. Shelagh speaks from experience earned over the course of more than a decade of responsibility for a board and its committees.
Please note:
We'll pay particular attention to what it takes for executive assistants to succeed in this stimulating career path, and working with diverse groups of high achievers.
Shelagh has dedicated the last 15 minutes of the allotted time for discussion of questions you may have.
Key learning objectives
Confidence through credibility: an introduction to governance
Working effectively with a diverse group of high achievers
Transferable skills you can draw upon, and what it takes to succeed in the board support role
Included with your registration
90-day access to recording of our session
PDF companion workbook, to download and use as you watch the recording
certificate for your professional development portfolio
What participants have said about this course
"A brilliant insight into the Governance role and how to effectively support a Board."
"Clear, concise. Usage of real world examples was helpful."
"You are thorough and I can see/hear the passion you have for governance when you share! There are a lot of acronyms that I was unaware of that evolve around governance ... love the 'nose in, fingers out' ..... you are truly a governance nerd, and I love it!! Thank you! "
"It's made me realise quite how large the role is and potentially could be ... it's not just about taking minutes and booking dinners!"
"As an Executive Assistant and Board Liaison, I love the governance portion of my role. Shelagh's course provided a good overview and refresher of governance responsibilities, and also served to help me brainstorm ways I can continue improving my contribution to governance leadership."
"The depth of knowledge Shelagh has on the topic blew me away! I will certainly review the recording in conjunction with the workbook."
"very informative - just the right level"
"a complete overview on any aspects of governance"
"The presentation of the training was excellent and allowed for me to be fully engaged."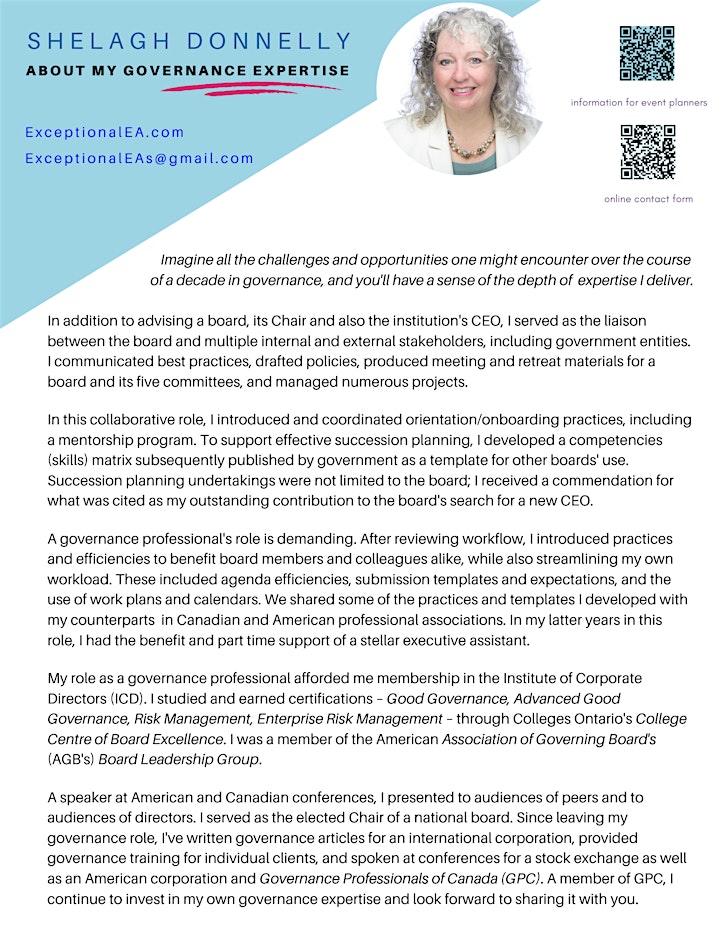 Invest in your career with someone who's walked the walk and presents on current best practices
Shelagh is trusted and respected by assistants and employers around the globe. She has been publishing her Exceptional EA website since 2013, and writes for other publications. An in-demand trainer, Shelagh works with conference organisers, professional associations, government bodies, higher education and businesses, including corporations such as the NBA.
For Shelagh's bio and a sampling of clients and references, please click here.
Registration fee
The fee for each webinar in this pandemic series is $150 US. Depending on currency fluctuation rates, that's approximately £120, or €134.
Canadian residents registering for this webinar will want to note that GST of $10.24 CAD is included in the cost.
What's included in this registration fee?
This is a live, 90-minute webinar Shelagh will present via Zoom. After you've registered, Shelagh will email you your access link; please watch for her email from ExceptionalEAs@gmail.com.
As part of this small cohort, you're welcome to email Shelagh brief questions or overviews of challenges you may experiencing in relation to governance. If identifying a challenge, please take steps to ensure you're not breaching any confidentialities or privileged/otherwise sensitive information. Shelagh will maintain your confidentiality when raising the matter during this session, and may invite group discussion/brainstorming associated with the matter.
Shelagh publishes a PDF companion workbook for you.
After the webinar, Shelagh will email you a certificate of attendance that will come in handy for tracking and showcasing your professional development.
It's not unusual for zones, commitments or people to throw our schedules for a loop, precluding us from participating in live sessions. With this in mind, and so you can review concepts at your convenience, Shelagh will make the webinar recording and PDF workbook accessible to you for 90 days post-event.
Speaking of time zones ..
Check out the start time in your time zone. Shelagh will present this live at 10:00 a.m. PDT/GMT-7 hours; click here to access a time zone converter. If this represents the wee hours of the night in your time zone, you'll be in good company by registering and relying on access to the recording and PDF companion workbook.