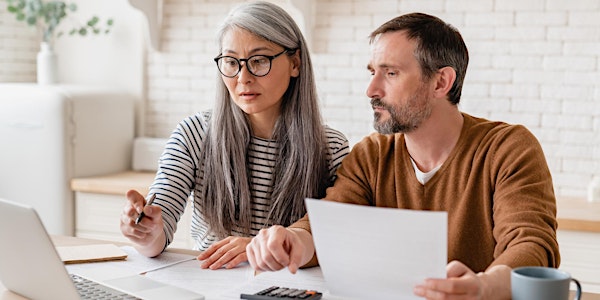 Understanding Government Pensions with Service Canada
In recognition of Seniors Month, Service Canada will provide a presentation on the Canada Pension Plan (CPP) and Old Age Security (OAS).
Date and time
Thu, Jun 22, 2023 9:00 AM - 10:00 AM PDT
About this event
NOTE: This session will not be recorded as information from Service Canada is updated frequently.
In recognition of Seniors Month, Service Canada returns to provide a presentation on the Canada Pension Plan (CPP) and Old Age Security (OAS). Join us to learn about:
An overview and updates of the Retirement Pension programs: Canada Pension Plan, Old Age Security, and Guaranteed Income Supplement (GIS)
Processes of applying pension for yourself and applying as a caregiver on behalf of someone
Other benefit programs and their websites: Ontario Disability Support Program, Ontario Works Programs, and Services for Seniors
Who should attend this event? If you are caring for someone who is ready to apply for CPP, OAS or GIS, or anyone interested in the programs listed.
Our Speaker: Service Canada provides the public with a single point of access to a wide range of government services and benefits.
NOTE: *This webinar will NOT be recorded. We also ask that you DO NOT personally record as this information can change without notice.
Please call the general inquiry line for Services Canada for specific or personal questions: 1 800 O-Canada (1-800-622-6232)
Twitter: @ServiceCanada_E
YouTube: @ServiceCanadaE
Website: www.canada.ca
All attendees who complete the webinar survey can enter a draw to win an Ontario Caregiver Organization Water Bottle. This draw will be held the week following the webinar, and is only available to residents of Ontario. Winners will be contacted via email after the draw.
Other Information
Please note that this presentation is available in English only.
Pour de l'information sur nos programmes et services en français, visitez www.ontariocaregiver.ca/fr our communiquez avec nous par courriel à info@ontariocaregiver.ca.
For any difficulty with registration or any other questions, please contact us at info@ontariocaregiver.ca or call 1-888-877-1626 X 1011
About the organizer
If you support someone in need and feel anxious and overwhelmed with your caregiving responsibilities, you're not alone. The Ontario Caregiver Organization (OCO) exists to support Ontario's 4 million caregivers; ordinary people who provide physical and emotional support to a family member, partner, friend or neighbour. We support caregivers by being their one point of access to information, so they have what they need to be successful in their role.
Working collectively with caregivers, healthcare providers and other organizations, OCO draws on the variety of work that is currently being done to ease caregiver burn-out and improve the caregiving experience. We find ways to make existing services more broadly available so all caregivers, regardless of age, disease, diagnosis or location can access support. Where there are gaps, we work with caregivers and like-minded partners to find new and creative ways to fill them.
Si vous soutenez une personne qui est dans le besoin et que vous vous sentez anxieux et débordé par vos responsabilités d'aidance naturelle, vous n'avez pas à y faire face en solitude. L'Organisme de soutien aux aidants naturels de l'Ontario (OSANO) a pour mission de soutenir les 4 millions de personnes aidantes naturelles à travers l'Ontario: des personnes ordinaires qui apportent un soutien physique et émotionnel à un membre de leur famille, un conjoint, un ami ou un voisin. Nous soutenons les aidants en étant leur guichet unique d'accès à l'information, afin qu'ils aient ce dont ils ont besoin pour réussir dans leur rôle.
En collaboration avec les personnes aidantes naturelles, les prestataires de soins de santé et autres organisations, l'OSANO s'appuie sur la diversité des travaux en cours pour atténuer l'épuisement des aidants et améliorer l'expérience des soins. Nous trouvons des moyens de rendre les services existants plus disponibles afin que tous les aidants naturels, quels que soient leur âge, leur maladie, leur diagnostic ou leur lieu de résidence, puissent avoir accès à du soutien. Lorsqu'il existe des lacunes, nous travaillons avec les aidants naturels et des partenaires aux objectifs similaires pour trouver des moyens nouveaux et créatifs de les combler.