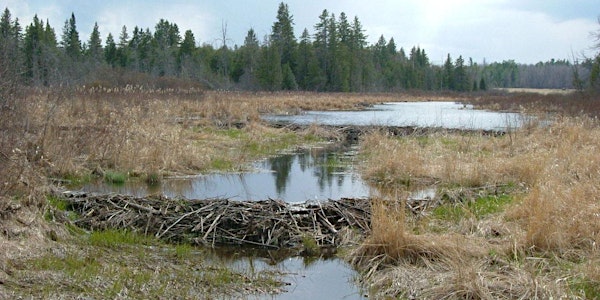 Understanding Natural Infrastructure Solutions
The first webinar in the Understanding Natural Infrastructure Solutions webinar series focuses on how beavers improve watershed resiliency.
About this event
Update (January 23): There has been high interest in this webinar event and we have reached capacity. Please stay tuned for future webinars in this series over the next few months. To receive invitations you can join CCME's mailing list at https://www.ccme.ca/en/about/email-sign-up.html
Beavers, Canada's national animal, provide many valuable ecosystem services including storage of water during droughts and flooding, creation of habitat for a variety of species, and improvement of water quality. These benefits allow for the increased watershed resiliency and restoration across the landscape. Land owners can come into conflict with beavers as they can cause damage by flooding roads, plugging culverts or taking down prized trees, which can result in the removal of beavers from the landscape.
Cows and Fish Alberta Riparian Habitat Management Society in partnership with Miistakis Institute will present their research and experiences of increasing the coexistence of humans and beavers to improve watershed resiliency and restoration across the landscape. By engaging with local land owners and land managers, they are decreasing conflict with beavers, fostering social tolerance, and increasing our understanding of the benefits that beavers provide us and the ecosystem as a whole.
Following the presentation, the Canadian Wildlife Service will provide an overview of its recent report "A Comparison of Natural and Grey Infrastructure Solutions".
Webinar Presenters:
Norine Ambrose, in her 20 years with Cows and Fish, has focused on working with landowners, communities and natural resource professionals to help them recognize the value of riparian areas, and what they can do to maintain these areas as healthy, productive pieces of our landscape. Her work with community leaders, organisations and agencies emphasises sharing lessons learned in effective program design and delivery. She combines her wetland ecology research experiences from the University of Alberta and farm upbringing in central Alberta with extensive development of new outreach and monitoring tools at Cows and Fish, to help bridge science, management and education around riparian ecosystems. She believes strongly that those who manage and use the land are critical to ensuring a healthy landscape through their management choices.
Holly Kinas is a Conservation Analyst with the Miistakis Institute, and aids in the research needs of a variety of projects across Miistakis' six research theme areas: human wildlife coexistence, citizen science for conservation, municipalities and conservation, transportation ecology, conservation planning and policy, and private land conservation. Holly has been working on the Beaver project since 2016 and most enjoys hearing the stories that land owners have about beavers on the landscape.
Photo by Victor Maltby from https://freeimages.com/