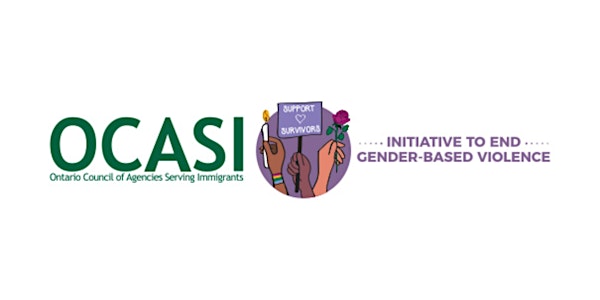 Understanding Sexual Violence in Immigrant and Refugee Communities Level 2
Understanding and Responding to Sexual Violence in Immigrant and Refugee Communities Level 2/2 - Self Directed
About this event
Understanding and Responding to Sexual Violence in Immigrant and Refugee Communities Level 2 : Self-Directed Online Course
Course Description
This five-module online self-directed course is developed to help front-line practitioners working with immigrant and refugee communities to better understand issues of sexual violence violence and develop a supportive response for survivors with intersectional identities.
Course Learning Objectives
After completing this course, you will be able to:
Understand a feminist, anti-oppressive approach to sexual violence and harassment that incorporates intersectionality.
Understand how structures and systems of power impact sexual violence and harassment. This includes an examination of how of how to recognize sexual harassment and violence and how to provide supports based upon a survivor's unique experience.
Be knowledgeable about responding to and supporting senior women, disabled women, LGBTQIA+ communities and women who have been trafficked, understanding that their experiences of sexual violence and harassment are distinct.
Be knowledgeable about existing resources and supports appropriate for specific populations (senior women, disabled women, LGBTQIA+ communities and women who have been trafficked).
Understand community-based responses and learn how to use them in your work.
Have had the opportunity to reflect on their own role as frontline workers within the context of prevention of sexual violence and harassment.
Course Dates:
September 12 - October 24, 2022
*Course is offered over a 6 week period, to allow participants enough time to complete and receive certificate.
Note: Prior completion of Understanding and Responding to Sexual Violence in Immigrant and Refugee Communities Level 1 is required.
Contact Information
For more information, please contact: Maggie To at mto@ocasi.org
OCASI GBV online training series is funded by Immigration, Refugees and Citizenship Canada (IRCC).