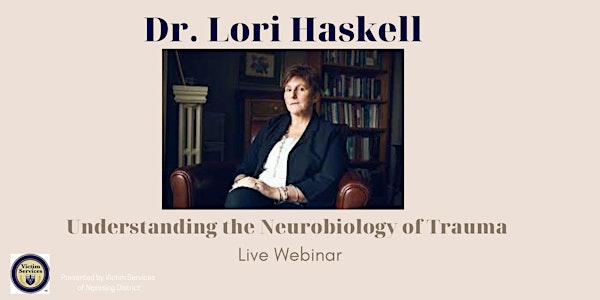 Understanding the Neurobiology of Trauma with Dr. Lori Haskell
Webinar with an in person networking opportunity on the importance of a trauma informed approach for police and other front-line service
About this event
Trauma Informed Policing: Understanding The Neurobiology of Trauma
Advances in neuroscience have facilitated a greater understanding of the neuroanatomy and neurophysiology of trauma, including the impacts on the brain, body and self. These developments in neurobiological knowledge have enormous implications for the justice system and can help move us towards enhanced and more effective institutional and legal responses.
Working effectively with victims of sexual violence requires a critical foundation of understanding the key brain circuitries altered by fear and trauma. It is now more fully understood that memories associated with a traumatic experience are encoded in the brain differently than the way normal memories are encoded.
In many cases the typical responses and demeanour of traumatized victims, as well as the patterns of recall associated with trauma, are not well understood by police, members of the legal system, and the general public. Too often the failure to understand trauma and its impact is erroneously assumed to undermine the credibility or authenticity of a victim's report.
Trauma-informed practice involves more than adhering to a set of abstract principles. It requires a thorough understanding of the complex and diverse alterations in the many domains of a traumatized person's development and coping. Knowledge about the neurobiology of trauma can play an essential role in supporting healing work, as well as the pursuit of accountability and justice.
OBJECTIVES
Learning Outcome #1 : Understand the neurobiological effects of trauma on victim behavior during and after a sexual assault
Learning Outcome #2 : Neurobiological understanding of the nature of traumatic memories and the implications for police investigations
Learning Outcome #3 : Trauma Informed techniques for interviewing and evidence collection