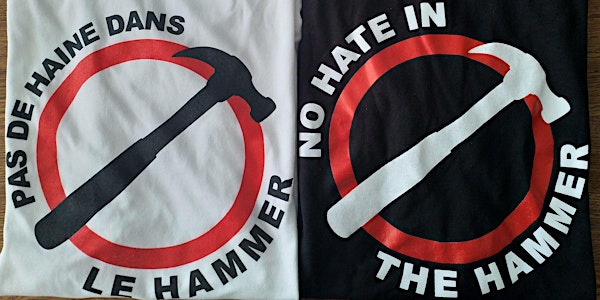 Une année de (ré)engagement / A Year of (re)Commitment: #NoHateInTheHammer
Une mise à jour de PHH et de l'information sur ce qui nous attend / An update from NHH and a peek at what's ahead
About this event
English message follows
Il y a un an que nous nous sommes réunis pour lancer la campagne Pas de haine dans le Hammer.
Nous avons pris l'engagement de plaider pour un Hamilton inclusif, diversifié et compatissant, et de jouer un rôle actif dans la réalisation de cet objectif.
Le comité directeur de la campagne Pas de haine dans le Hammer invite les membres de cette coalition à écouter ce que nous avons fait au cours de l'année passée. Nous souhaiterions également d'entendre ce que vous avez fait depuis le mois d'août pour combattre la propagation de la haine à Hamilton.
Cet événement s'adresse aux membres de la coalition et est ouvert à tous ceux qui souhaitent y participer.
---
A year ago we gathered to launch the No Hate in the Hammer campaign.
We committed to standing up for an inclusive, diverse, and compassionate Hamilton, and to taking an active part in that goal.
The steering committee for No Hate in the Hammer invites members of the coalition to hear what we've done in the past year and share the actions you've taken since August to combat the spread of hate in Hamilton.
This event is for coalition members and is open to all who are interested in joining.