Promoting intercultural understanding by demystifying threads of African traditions that are woven into more familiar, modern dance style.
About this event
A Warm Welcome
On February 26, 2022, we are thrilled to be spotlighting some of the best dancers and choreographers that the city of Calgary has to offer with our virtual UNGANISHA: Explore. Connect. Dance. theatre production for 2022! UNGANISHA is the Swahili word for "connection," and this year's collection of performances will display the greatest of all human connections: love.
Through movement, storytelling and historical contexts we will journey through Tap, Jazz, Hip-hop, Samba, Capoeira, Step, Afro-Cuban, Afro-Caribbean, and Salsa to celebrate their genesis, their contemporary popularity, and their ability to connect people across cultures and continents. UNGANISHA identifies each style as owing to African traditions while distinctly belonging to modern popular culture to focus on the creative possibilities that emerge when different peoples, cultures, and artistic traditions intermingle.
We are revisiting and revamping our 2019 UNGANISHA production to share a highly educational and artistically rich program that is a not-to-be-missed event perfect for your Black History Month celebrations.
Synopsis
He and She are soulmates, their hearts tethered through generations and reincarnations; space and time; love and loss. Follow two soul mates as their spirits are reborn and reconnected as high school sweethearts in history class, as a young expecting couple torn apart by slavery, as John Ware and his indelible wife, Mildred at the hands of destiny.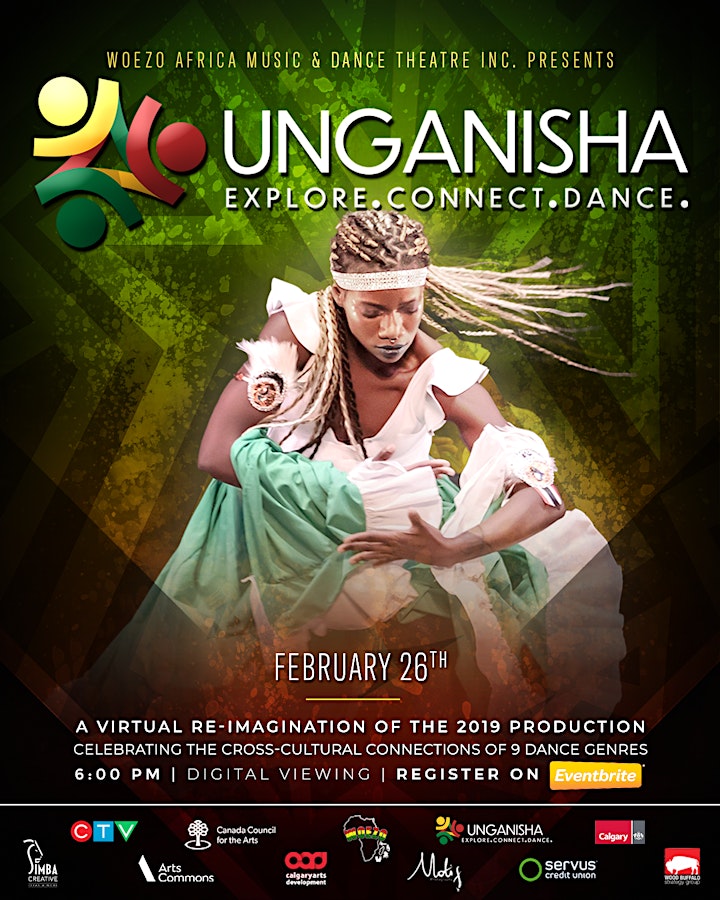 Date and time
Location
Refund policy
Organizer of UNGANISHA: Explore. Connect. Dance.
Since 2006, Woezo Africa has been passionately dedicated to bringing the history of African culture to the masses through traditional and modern modes of performing arts, including dance, music, theatre and storytelling. Woezo Africa has encouraged artistic creativity and excellence, increased awareness of and participation in the arts, driven partnerships between arts organizations and other professional sectors, supported innovative cultural activities and provided mentorship opportunities for artists. We intend to have our art serve the community by contributing to cultural development and artist spotlighting while shifting misconceptions regarding diversity. The diverse, award-winning organization provides an array of services and educational community outreach programming, involving school-based artist residencies, dance classes and workshops and event production and arts management.
Woezo Africa's local and international productions include Africa Jo, UNITY: Dance Across Africa, and their annual Black History Month event UNGANISHA: Explore. Connect. Dance. The organization has also produced two editions of Woezo Africa Festival in collaboration with the Guild of Nigerian Dancers (G.O.N.D) and Ijodee Dance Center in Lagos, Nigeria. By pushing for increased visibility of ethnically and culturally diverse artists in Alberta, Woezo Africa hopes that perceptions will shift around who participates in the arts. Through dynamic, cutting-edge work that captures the imagination of a range of audiences, Woezo Africa continues to enhance the creative economy in Calgary, empower communities and perpetuate the movement for instilling social change.