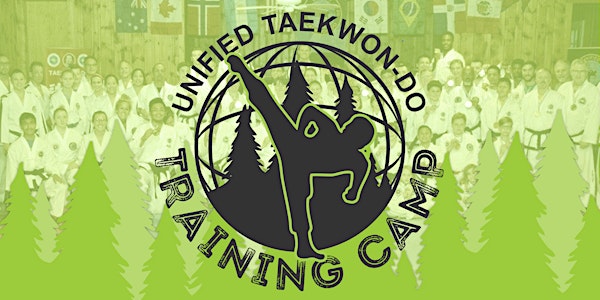 Unified Taekwon-Do Training Camp
When and where
Location
Grandview Camping & Cottages 89 North Moodus Road East Haddam, CT 06469
Refund Policy
Refunds up to 30 days before event
Description
Camp is a multi-day training opportunity for Taekwon-Do practitioners and martial artists everywhere. Training and activities cover topics such as: basic exercises, tuls, one-steps, free sparring, self-defense, conditioning, hapkido basics, board breaking, yoga, stretching, drills, skill development, jumping techniques and more!
Registration Options:
All registration options include training with a variety instructors, all meals, daily snacks, a traditional Korean BBQ, and use of campsite amenities.
Campers have the option of either bringing their own camping gear or renting a cabin.
PACKAGES

Full Camp and Weekend-Only packages include an official Camp t-shirt (if ordered prior to June 1).
Regular sales close June 1.
(Late/on-site registration continues up to the event. No discounts or t-shirts are available for late/on-site registrations)
Full Camp: Wednesday evening–Sunday midday (family discount available)
Early Bird pricing available until April 19.
Campers may move in Wednesday after 5pm.
Check-in runs from 5–8pm.
Weekend Only: Friday evening–Sunday midday
Early Bird pricing available until April 19.
Campers may check-in and move in Friday after 5pm.

Daily Rate for Participants: $140/day
Includes all training sessions, meals and access to campsite amenities during a day or part of a day. Does not include overnights.

Non-Participants—$120 for 4 nights
Includes all meals and access to campsite amenities for 4 nights (Wed-Sat). *Does not include a camp t-shirt.*
CABIN RENTALS (limited availability)
Cabins accommodate up to 6 guests and include a mix of double and bunk beds, a private bathroom, mini-fridge and AC and are rented on a 4-night basis (Wednesday-Saturday night). **CABINS ARE PAID THROUGH UNIFIED—PLEASE DO NOT CONTACT THE CAMPGROUND DIRECTLY**

Sleep up to 4 people: $500/4 nights
Sleep up to 6 people: $530/4 nights
Cabins are available on a first come, first serve basis. If you would like to rent extra nights before Wednesday, please contact Camp Director, Master Jade Hwang: jade.hwang@unifiedtaekwondo.com.

Optional Extras for Pre-Order:
Additional Camp gear, including extra Camp t-shirt, will be made available at a later date.
Airport Transportation (from Bradley International Airport, Hartford, CT)—Complimentary


Join us for another great year of training and memories!