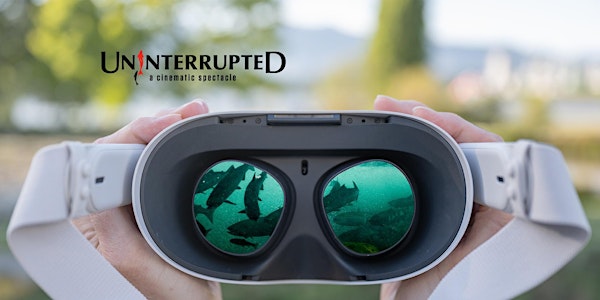 Uninterrupted VR - North Shuswap
We are honored to present UninterruptedVR an award-winning cinematic experience as a totally FREE event in the North Shuswap!
When and where
Location
Quaaout Lodge & Spa at Talking Rock Golf Resort 1663 Little Shuswap Lake Road Chase, BC V0E 1M2 Canada
About this event
As part of a series of regional tourism events, we are honored to present "UninterruptedVR" an award-winning cinematic experience that uses virtual reality to immerse audiences in the return journey of Pacific salmon. Much of the filming took place in the waters of the Adams River, and the event is now returning to the place where it all began – here in the Shuswap!
We invite you to book viewings to enjoy the "UninterruptedVR" experience for yourself, your organization, friends and family. Each viewing can accommodate 20 people, each with their own headset, so seating is limited!
FREE Virtual Reality Experience for ages 8 to 88+. Younger children must be accompanied with a parent, and the event is not recommended for ages 7 and under. The event is also accessible for all languages - it's a visual experience with a sound score. The audience will be seated in swivel chairs during the VR experience, each provided with a VR headset.
To learn more about Uninterrupted, please visit the website here - https://uninterrupted.ca/