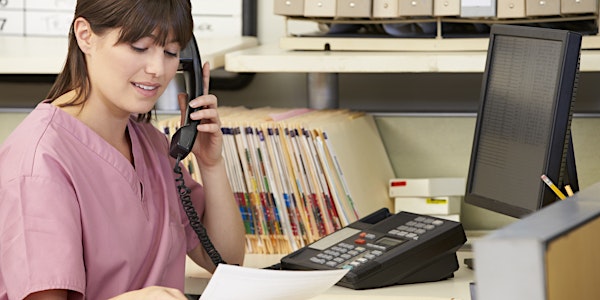 Unit Clerk Certificate Course Online Info Session
Unit clerks are the hub of a health care team. Develop practical skills and knowledge to start a dynamic career as a unit clerk.
When and where
Date and time
Thu, Feb 23, 2023 3:00 PM - 3:30 PM PST
About this event
Register for our upcoming live online info session about our Unit Clerk Certificate Course with instructor Corene Allen.
The Unit Clerk Certificate Course prepares graduates for employment as a Unit Clerk, Health Unit Clerk, Hospital Unit Clerk or Nursing Unit Clerk. Unit Clerks are responsible for looking after the administrative and clerical requirements of a health care unit. Through their expertise and care, they enable the team to function smoothly and effectively.
This career program teaches the skills necessary to communicate effectively with nurses, physicians and other members of the health care team, within a hospital setting. Graduates can also find employment in clinics, extended care facilities, rehabilitation centres or psychiatric hospitals.
Learning Objectives:
• Communicate professionally with a patient and the members of the healthcare team.
• Understand and be comfortable using medical terminology, with a firm grasp on anatomy and physiology.
• Understand basic pharmacology, able to identify most common drugs with generic and trade names, and the classification.
• Perform role-specific tasks as they are adapted to different practice settings.
• Gather, record and manage patient information and appointments accurately and effectively.
• Interpret, record and send treatment, diagnostic, laboratory and surgical orders as prescribed.
• Complete practicum in a real world setting gaining hands on experience.
• *In the event of a shortage of practicum placement spots, students will have the opportunity to complete a capstone project in place of their practicum experience.
NAHUC Certification
Our Unit Clerk Certificate Program is on the Education Partner list of the National Association of Health Unit Coordinators (NAHUC). After completing the Unit Clerk Certificate Program at Ashton College, graduates can apply to join the association and become certified by passing the Health Unit Coordinator Certification Examination. This certification examination can be taken at Ashton Testing Services or any PSI Test Centre. Certification is granted for three years.
We look forward to connecting with you online! To find out more about the course:

Corene Allen graduated from Vancouver Community College (VCC) in 1997 with honours and was a tutor during her studies. She has held many positions throughout different health authorities in hospital wards such as Emergency, Surgical, Medical, Clinical Trials and Ambulatory Care. In 2011, she worked as the lead instructor for a Nursing Unit Clerk Program at another college and was known to have the highest successful graduation rate of any program at the college. Corene currently works as a Nursing Unit Clerk for Interior Health.
About the organizer
Founded in 1998, Ashton College has since become a national and international leader in the field of education. Ashton College is regulated by the Private Training Institutions Branch of the Ministry of Advanced Education, Skill & Training (PTIB). We deliver an innovative, personalized and fully comprehensive learning experience to both domestic and international students. Our standard of excellence is reflected by our outstanding faculty, industry-recognized programs and courses, and, most of all – the success of our graduates. Ashton College provides more than just academic instruction; it is an education with a purpose.