About this Event
COVID-19 UPDATE
POSTPONEMENT OF UNITE 2020
Health officials are suggesting that restrictions on larger events could last well into and beyond May as a result of the continually evolving COVID-19 pandemic. With everyone's well-being in mind, we have decided to postpone our UNITE 2020 gathering scheduled for May 7-8, 2020.
Will UNITE 2020 be rescheduled?
Yes, that's the plan! We're still very excited about this important milestone, and only anticipate this gathering getting better. We're working to investigate alternate dates and arrangements, and as soon as we have enough clarity and certainty to reschedule with confidence, we will update the event details on Eventbrite.
If you haven't already, please sign up for our mailing list to ensure you receive updates about Jesus Collective, and specifically UNITE 2020.
Is this for you? It is if you're a pastor or ministry leader who wants to...
Engage in deep-dive dialogue about key issues facing our churches
Forge new relationships & community with like-minded pastors and ministry leaders from across North America and beyond
Dream about how we can unite, equip, & amplify this Kingdom movement together
Be a part of celebrating and shaping the launch of Jesus Collective
What to expect
We love church conferences, but this isn't one!
'Collective' safe space – conversational approach to tackling key issues together with peer church leaders under the theme of Kingdom unity
Intentional social & networking time for relationship building
Communal spiritual practices + prayer and discernment together
Practical leadership equipping with like-minded thought and practice leaders
Learn about the future of Jesus Collective & options for ongoing engagement
Conversation Topics in the Works...
The 'fight' for Kingdom unity in polarizing times
Defining our Jesus-centred core & shared practices
Diversity & inclusion in our network & churches
Equipping for post-Christian ministry
LGBTQ+
Teaching the way of Peace
Leading our churches and ministries in the Jesus-centred Way
_________________
Evening of Wednesday, May 6 – Optional pre-event session & social
Thursday, May 7 – All day sessions, evening offsite social
Friday, May 8 – All day sessions, end late afternoon
_________________
Engaging with Thought & Practice Leaders
If you're looking for one way presentations, this probably isn't the event for you. We're excited to address key issues collaboratively together, engaging with like-minded thought and practice leaders throughout our gathering including Bruxy Cavey, Danielle Strickland, Greg Boyd, Efrem Smith, Tara Beth Leach, and Ken Shigematsu.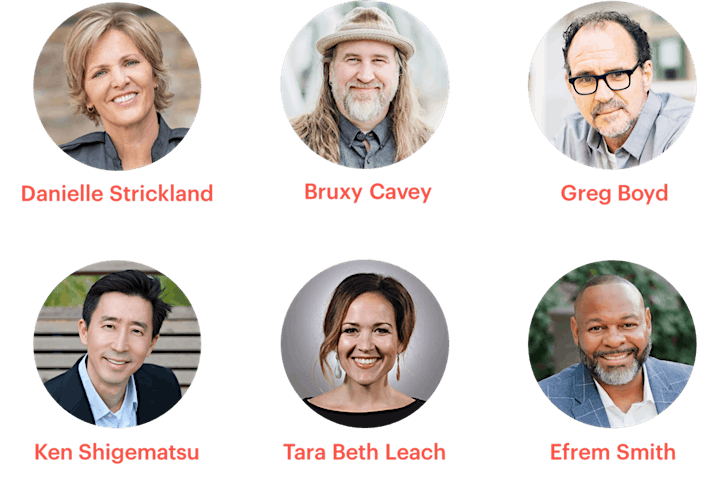 Registration:
$185 CAD per person (Approx. $140 USD)
Includes 3 meals Thursday, 2 meals Friday
Includes all sessions and Thursday evening offsite social event