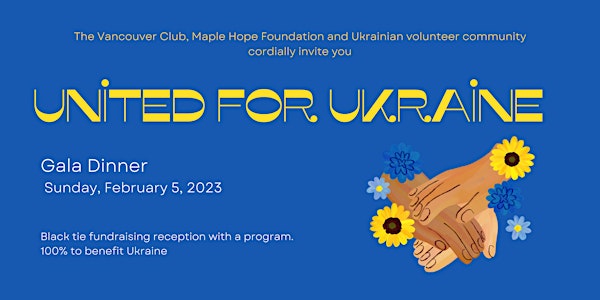 United for Ukraine Gala Dinner
THANK YOU SO MUCH FOR YOUR SUPPORT! WE ARE SOLD OUT. Please see the details below for a waitlist.
When and where
Location
The Vancouver Club 915 West Hastings Street Vancouver, BC V6C 1C6 Canada
About this event
THANK YOU SO MUCH FOR YOUR SUPPORT! WE ARE SOLD OUT. To register for a waitlist, please fill in this form.
Tickets are available for purchase until January 22nd only or until sold out. Don't delay, act now!
The Vancouver Club, Maple Hope Foundation and volunteer battalion in Vancouver cordially invite you to NOT JUST A DINNER but a black tie fundraising reception with an entertaining program.
Join us in one of the most elite local venues, The Vancouver Club, for a classy evening dedicated to raising funds for Ukraine.
What to expect:
Three-course menu (description below) catered by The Vancouver Club included in the ticket
A drink of choice included in the ticket
A special a la Ukrainian style dessert included in the ticket
Cash bar available for beverages
A special Ukrainian shot available for purchase with a full profit amount to benefit Ukraine
Live music to accompany the reception
Performances featuring Ukrainian artists, art and culture
Exhibition and sale of art, crafts, jewelry, souvenirs, paintings etc
Auction with valuable lots from local businesses
A beautiful heritage venue in the heart of Vancouver's downtown offering elegant ambiance and serviced by an expert catering team
Doors open at 5:30 pm with a welcome drink hour; dinner with a program begins at 6:30 pm.
The live program includes performances of well established local artists as well as those who had recently moved to Canada as Ukrainians seeking refuge.
The program is built as a well thought through flow of curated, carefully picked songs, intentionally produced dance pieces, charming Ukrainian designer collection show, exciting offers of the live auction and speeches from the community leaders.
Among the songs the show will feature covers on such all time favorites like Hold My Hand by Lady Gaga and Stand by Me by Ben E. King. It will also introduce you to some culturally crucial Ukrainian songs and those which became iconic since Ukraine's fight for freedom (covers on Okean Elzy, Jamala, Kazka, etc).
Especially produced dance pieces will not only mesmerize you by the talent and skill of recently arrived Ukrainians but will also touch your soul showcasing a couple which carries their love through a war torn country.
You will also hear a couple of words from some of the local community leaders like the General Manager of The Vancouver Club, the leader of the Ukrainian Canadian Congress, the co-founder and CEO of Maple Hope Foundation and other special guests.
The three-course menu offers a selection of:
APPETIZER:
Simple Greens: crudités, citrus vinaigrette, soft herbs (vg/gf/df)
Romaine Salad: caesar dressing, parmesan, chili breadcrumbs (v)
Signature Tomato Soup: concassé, crispy basil (v/gf)
ENTRÉES:
Chickpea Galette: smoked cashew yogurt, saffron rice, tomato confit (vg/gf)
Chicken Breast: fregola, dried apricots, almonds, green olive jus (df)
Salt Baked Salmon: almond butter, rapini, tomato braised lentils (gf)
DESSERT:
A special a la Ukrainian style dessert
All proceeds will go to benefit the active needs of the Ukrainian people. In particular, the funds will be directed towards humanitarian and mental assistance of the children as well as medical and other vital supplies for all ages.
Support Ukraine by joining us for a night of excellent food, show and ambiance, all in solidarity with Ukraine.
For more information about donations, please visit: https://www.maplehopefoundation.org
For any questions including your offers for the silent auction, donations and/or sponsorship of this event please contact us at help@maplehopefoundation.org.
Please be advised:
1. The tickets sale will end on January 22, 2023 to allow for the catering team to prepare as necessary. It is therefore highly recommended to secure your tickets as soon as possible.
2. The event is recommended for 12+. Specific performances include video projections that some may find sensitive as they may contain graphic or violent content.
3. Food & beverage selection is placed along with the ticket purchase from 3 menu choices provided for the first and second course
4. This is a formal event with a black tie dress code while blue&yellow colours are welcomed. At the same time, The Vancouver Club has a Dress Code Policy which is enforced by its members and staff. All the guests must comply with The Club's appropriate attire policy, which is business casual, with a no-denim, no athletic wear. Please consider the following as your guidance in the outfit selection:
(a) Cocktail: Business suit or stylish jacket matched with slacks/skirt with an appropriate dress shirt. Tie or bow tie is optional. Dressy pantsuit, jumpsuit, or chic party dress. Coordinated footwear should be paired accordingly.
(b) Formal/Black tie: Dark suit or tuxedo. Tie or bow tie, or cultural equivalent. Long gown, elegant pantsuit/dress. Coordinated footwear should be paired accordingly.
5. Service fees and Eventbrite fees are included in the ticket price.
6. Buy 10 for 8 option is available at a reduced cost.
Tickets are available for purchase until January 22nd only or until sold out. Don't delay, act now!
Our sponsors and partners: