Welcome to DisOrientation Week 2021!
About this event
This will be a movie night hosted on the Sadleir House Lawn followed by a discussion.
We will be watching The United States Vs. Billie Holiday which follows the life of Billie Holiday as well as the fall out from her song "Strange Fruit" which speaks about the lynching of black bodies at the time.
The movie follows the FBI launching an undercover operation against the artist because of the truth of the song, and the belief that it may empower more black individuals in the civil movement. This documentary shows how governments tend to silent the oppressed, rather than stop the oppression.
Watch the trailer here: https://www.youtube.com/watch?v=USi-ppCfxEA
About DisOrientation Week
Are you ready to get disoriented? Dis-­Orientation Week (Dis-­O Week) is a week of various events and activities oriented around social justice, environmental justice and anti-oppression put on by Trent groups and members of the community. Dis-­O Week is an integral part of keeping the embers of activist culture burning at Trent. Through this week, a new group of students and community members are invited to participate in and join the future of social justice, environmental justice and anti-oppression at Trent and in the community. Join us this year for 6 days of free workshops, giveaways, speakers, films, tours, socials, learning, fun, agitation, and, of course, disorientation.
We hope that these community-oriented events work towards forming culture-changing relationships with each other to build momentum and sustainability within the activist culture at Trent and in Peterborough/Nogojiwanong.
We acknowledge that this event will be taking place on the traditional territory of the Michi Saagiig Anishnaabe people, at the gathering place known as Nogojiwanong, or the place at the foot of the rapids. The significance of this place is not lost on us, and we hope that this gathering will inspire solidarity, action and change for years to come.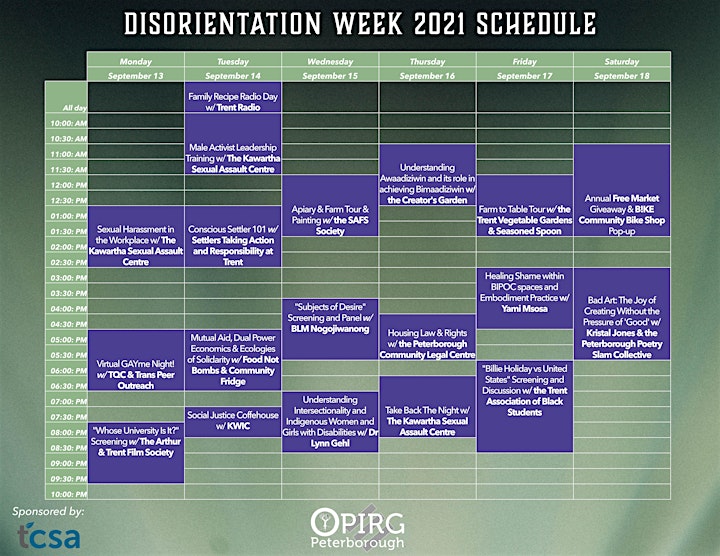 Organizer of "United States vs Billie Holiday" Screening and Discussion with TABS