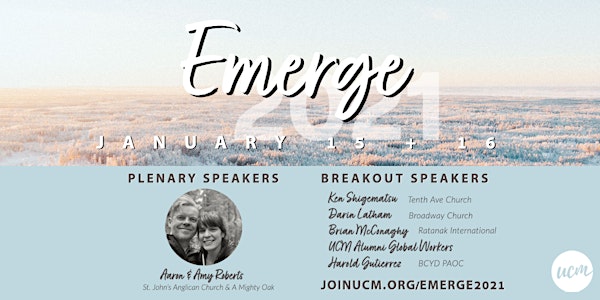 University Christian Ministries Emerge Conference
In the midst of a pandemic, we all need a retreat. Join students from campuses across BC for a weekend to enjoy God's presence and virtually
By University Christian Ministries
Date and time
January 15, 2021 · 7pm - January 16, 2021 · 8:30pm PST
About this event
This year we are blessed to have plenary sessions with Aaron and Amy Roberts.
Breakouts featuring Ken Shigematsu (Tenth Church), Darin Latham (Broadway Church), Brian McConaghy (Ratanak International), Harold Gutierrez (Indigenous and International Ministries Director BCYD PAOC), and a UCM missions journey: features UCM alumni serving in North Africa.
Amy Wilson-Roberts is the founder of A Mighty Oak, a coaching organization helping individuals and communities gain clarity around their vocation. She focuses most of her coaching, teaching, and facilitating on embodying our identity, and helping people see vocation as integral to the mission of God in the world. Amy spent 10 years as a director for NieuCommunities - a collective of missional communities sprinkled around the world. She has a Masters in theology from Regent College and lives in the Hastings-Sunrise neighborhood in Vancouver, BC with her husband Aaron, and three kids (Sadie, Beatrice, and Oliver).
Aaron Roberts is surprised to find himself an ordained Anglican minister working for St John's Vancouver in BC, Canada. Originally from New Zealand, Aaron was a sexual and mental health educator working for a Christian organization in Auckland. In the old country, he was regularly asked to speak about faith at camps and retreats. He quickly realized he had no idea what he was talking about, and decided he needed a theological education. So, in 2005, he came to Regent College with enough money to last a semester (or two), and no real plan after that. 15 years later, he is quite stunned, and grateful to find himself married to a southern belle (Amy), with 3 children and still living in Vancouver. Aaron is very passionate about the church, and preaching. In his spare time, wanders around the house pretending to think things.