| | |
| --- | --- |
| Unleash your Excel - with Tips that Reclaim Your Time & Up your Skills! | |
Event Details
Does the thought of using Excel make you cringe? Falling behind in your day every time you turn it on?  Let's fix that. We'll take you from 'Bleh' to 'Yeah.'  Brush off the excel dust and get fit again.

Great for Professionals, Admin Assists, & Project Teams!
In about 90-120 min, we'll do this together: 
Save you hours each week with formatting tools & a practical process that works
Unlock your inner Geek: Improve your Data set-up & filtering & quick Pivots
Update your formula wizardry: With designing tips and an auditing tool
Upgrade your Troubleshooting skills (Dates! UGH! Anyone?)
Improve your navigating & selecting: Reduce workflow interruption
Workshop OUTCOMES: 
Reduce workflow interruptions due to old Excel skills = improve your productivity immediately
Regain confidence if this it's been a while since you've been on the Excel bike. 
Manage Your Learning Change: 

Apply and practice your upgraded skills using our Change This tool!

Every workshop has a 

mystery surprise topic

, based on pre-workshop assessments sent in!
How we run this Workshop & What else you get: 
We ask everyone to please arrive 5 min early to log in. 

Whoever wants to, can stay afterwards for a 1/2 hr review, Q&A & troubleshooting time. 

It's not all Me-talk or slide decks! We stop for interactive reviews and activities! 

You can listen & re-watch! 

You get a link to the recording, post-workshop! 

You get my direct email - if I can help with a specific question, I'll do my best. 

You get access to pre-designed templates and tools - workshop relevant.

You get an Excercise File so you can flex your Excel muscles after workshop!

Your feedback goes into making future webinars better! Complete a post-workshop survey for a discount to future workshops! 
Practical. Applicable info. Thousands of clients. Internationally. I've worked with this product in many industries and in many ways, so I believe I can help your productivity improve your workday!
My target: For every dollar you spend in a workshop with me, I want you to recover or earn $10-20 worth: in time reclaimed, $$ saved or higher earnings. That's my aim. We can. Let's do it together! 
Eco-friendly   |   Experienced & Engaging Facilitation   | Several Time slots to choose from  | Limited # of seats
 And if you need a custom designed workshop - it's my specialty!  - Rose Hastreiter, directcorporate.com
---
FAQs
What can/can't I bring to the event?
Please arrive 5 min early to log into the webinar, because we start ON time. Bring some old-school things like a pen, paper, sticky notes and a highlighter. Recommended: If you happen to have a second monitor - turn on Excel so you can watch what I'm doing and practice it on your second monitor! Otherwise, you'll be able to practice later using the webinar video & exercise file you receive!
 Where can I contact the organizer with any questions?
info@directcorporate.com
Is my registration/ticket transferrable?
Our policy is up to 24hrs prior to the webinar, you can reschedule. Remember, we hold your seat - which means nobody else can get it. But we're happy to schedule you in the next available timeslot for this workshop. Don't worry, we'll work it out. We're pretty reasonable folk. But note: if you don't show up for the webinar, we can't refund you because we held your seat. Kind of like an airplane. When we take off, we take off. :) 
The name on the registration/ticket doesn't match the attendee. Is that okay?
Absolutely! Just send a short email to info@directcorporate.com authorizing the new attendee. Thanks! Rose
Organizer
Rose Hastreiter - Leonty3C.com
Project Advisor | Expert Speaker | Workshop Facilitator
Rose works with organizations that want their projects and people to develop & master their productivity and performance.  She helps professionals optimize their time, action, and energy.  A proven leader of successful cross-enterprise projects and teams, Rose injects collaboration, clarity, and energy into projects, change management events, and professional-development workshops.
 As one satisfied client said, "Rose makes things go and people grow."
  What Clients Say:
"Her ability to unify teams and move difficult projects from chaos to streamlined reality is remarkable." 
M. Moore, Regional Product Marketing Manager - Europe -  MK Inc.
"..if you're looking for expertise to ensure project or workshop success, Rose is an excellent choice...  she takes the time to really understand what your objectives are... and ensures you get great value.... " 
 L. Christensen, Director, Int'l Programs, Mitacs
"Her energy captures her passion in the topics she facilitates + clearly highlights her knowledge and expertise. Rose has definitely become one of my 'go-to' facilitators over the past few years." 
 K. Karoli, Senior Advisor, Curriculum Development, Mitacs
Sectors & Types of Projects Rose has worked with: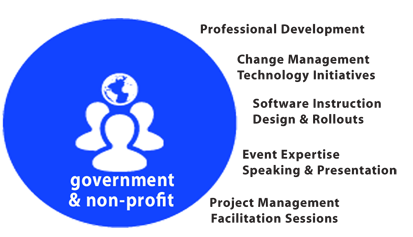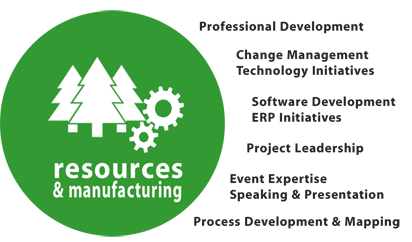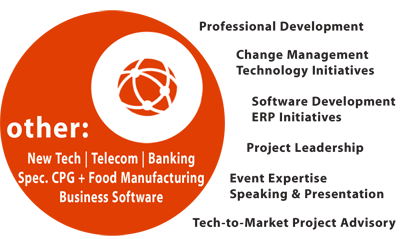 Part of what she does for Organizations:
With her engaging leadership style, Rose drives measurable improvement by:
Creating and delivering project and team-management solutions
Facilitating and guiding teams through change management events and project crises - towards a normalized future state
Providing advisory and management support, bridging gaps between strategic vision and operational functionality
Bringing troubled or challenging projects back on track 
Coaching and speaking to groups and teams of professionals that want applicable & practical expertise
Developing and implementing professional development programs for cross-enterprise skills increase

 
Rose brings her clients: 
Optimization of time, energy and action throughout project lifecycles
Effective Communication and Project Management behaviours, tactics, and practices
Improved Anticipation and Adaptation to changing conditions
Improvements in collaboration and processes, reducing corrective communication and future risk