Sales Have Ended
Ticket sales have ended
Sorry that we just missed you, but we will be looking forward to seeing you at our events next time. Any questions, please drop us a line at https://www.hehematch.com/contact or email us at admin@hehematch.com.
Sales Have Ended
Ticket sales have ended
Sorry that we just missed you, but we will be looking forward to seeing you at our events next time. Any questions, please drop us a line at https://www.hehematch.com/contact or email us at admin@hehematch.com.
Another great event specially engineered to help Canadian single professionals effectively network, expand singles connections and unwind.
About this event
WHO IS THIS EVENT FOR?

Are you a single professional aged 18+?
Are you interested in mingling with like-minded counterparts?
Are you looking to network with other single professionals in your areas and beyond?
Do you want to network with unlimited potential?
Do you attend professional networking events for career development and speed dating events for personal life?
What if you can do both in the same event?

Aiming to help single professionals achieve work-life balance, especially those keen to network with other like-minded eligible singles after a week-long hard work, to expand your singles connections and have some quality time, we are here to help you!

If you're single and ready to change this status, why not give it a try? This event is truly for you!

WHY SHOULD YOU JOIN:

- it is Chrismas time, and you want to be happy and have a united Christmas party instead by yourself alone all year long

- network effectively by mingling with right demographic

- we are giving out a surprising Chrismas gift (value U$100) for live participants from beginning to end so that you will be having a happy and united Christmas party 🎉

Unlike traditional speed networking or speed dating events, these singles mixer events come with 2 main themes: #networking and #entertainment or #relaxation:

- meet some great single friends and possible dates or matches

- build authentic professional connections

- energetic conversations and chitchats

- fun single professionals only networking environment by being yourself

- physical/mental excise in soothing lounge music, jazz, etc

- Other prizes include 2 lucky draws (U$100 x 2) and 1 best dress prize (U$100x1)

- and much more

What are you waiting for? Take some time to look after yourself. Sign up NOW to secure your spot, start your journey to your soulmate and enjoy your personal life.

Make the click; you'll be glad you did.

============================================

About the Host:

Eileen Xu, Multi-Award-Winning Executive Matchmaker, Multi-Car-Crashes Survivor, Determined to help 100MM singles find soulmates/Successful Leader of Global Business Excellence Company/Inventor/CEO/President/Keynote Speaker/TV Host.

Eileen founded HEHE Match Inc in 2016 with a vision of having a world where no one is emotionally detached. She is on a mission to help single professionals find soulmates, achieve work-life balance, and live a healthier, happier and longer life.

To tackle the century-old issues in the dating industry, including online dating fraud and mental distress, Eileen and her team have developed 6 innovative dating products for all needs and at all budgets via the one-stop online and offline platforms with AI-powered patents pending algorithms.

Over 5 years, HEHE Match has snowballed from an offline headhunting type of matchmaking agency only for highly Successful, highly educated and high-end single professionals to multi-award-winning hi-tech leading innovative networking, dating and matchmaking company headquartered in Toronto.

Eileen loves helping professionals and singles by hosting events. Monthly, she hosts board meetings and chapter meetings, assisting professional members at the trade association, RESA GTA. Furthermore, Eileen has also launched and hosted dozens of singles events with excellent outcomes (i.e. 90% of success rate). Some of them are Special Speed Dating Events with a geographic and demographic focus in Canada, the US, Europe, Toronto and China, respectively; Her event participants enjoyed the fun and unique experience and the successful outcomes.

In the most recent event in July and Aug, 526 and 246 attendees and 4065 and 1933 unique event visits, respectively.

Prior to her entrepreneurship, Eileen worked as a senior executive banker for 5 Fortune 100 companies on 3 continents. Professional life consumes a lot of her time! She realized that she had minimal time and places for meaningful socialization.

After surviving 3 car crashes, Eileen determined to do something good for the planet before leaving it and found her purpose. Upon the finishing touch of her first software patent application (i.e. Soulmates Matching System), Eileen set a giant target for herself for the rest of her life to help 100MM singles find their soulmates, NOT casual dates.

Since the pandemic, she saw the increased challenges that singles faced, including their love life. As a result, many single professionals gave up on dating. In support of fighting the Covid and giving back to the community, she launched dozens of free virtual singles events. During the events, she also took the time to collect their feedback and suggestions. The dominant voice was the need for a singles hub where singles can call home and go whenever they need someone to talk to or spend some time unwinding.

Eileen took every piece of suggestion on board. Then, 3 months later, in November 2020, she successfully upgraded HEHE Match's old version platform to the latest hi-tech WordPress site with tons of the latest solutions and features where singles can access 24/7 for free.

Eileen's effort to improve singles' quality of life did not stop there. HEHE Match partnered with the well-known Toronto college on R&D under the Canada Fed government-sponsored hi-tech innovative program. In addition, she pitched in the 2020 Canada Innovative Hi-tech Company Competition and successfully attracted Serial A/B funding from a prestigious venture capital company based in Downtown Toronto. This company only invests in exceptional founders who lead a next-generation global business. Eileen has been working around the clock to take the business of helping single professionals to the next level!

We all know how hard it is to live without someone by your side, which is why HEHE Match was born. Eileen and her team have touched so hundreds and thousands of singles' lives.

Take your relationship to the highest level with HEHE Match, and they will find you the perfect match you deserve and desire!
HEHE Match's Singles Live Events Summary - Analytics of July 17th Event
Analytics of Aug 21 Event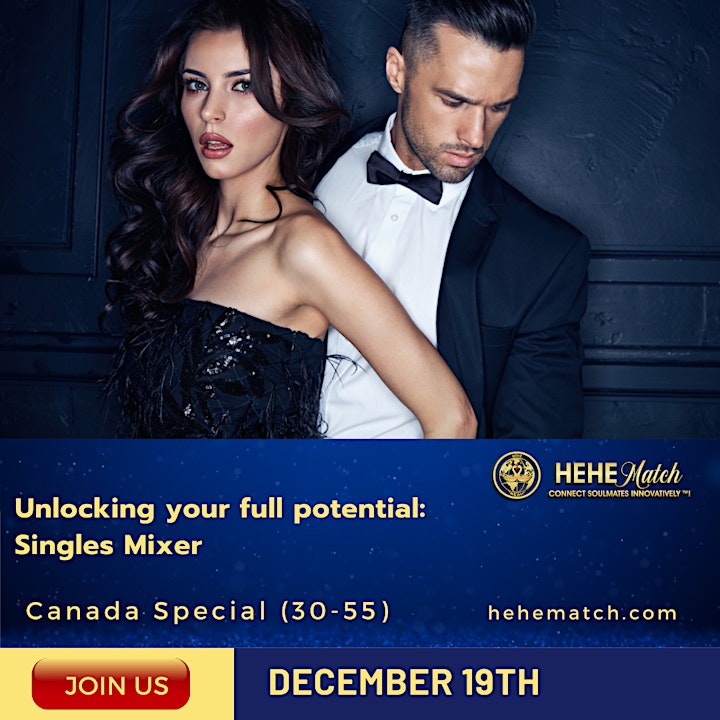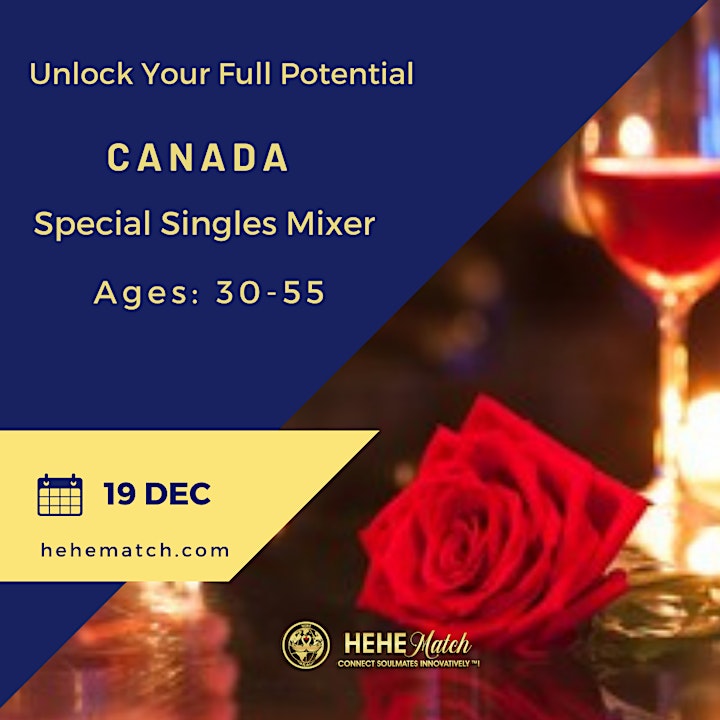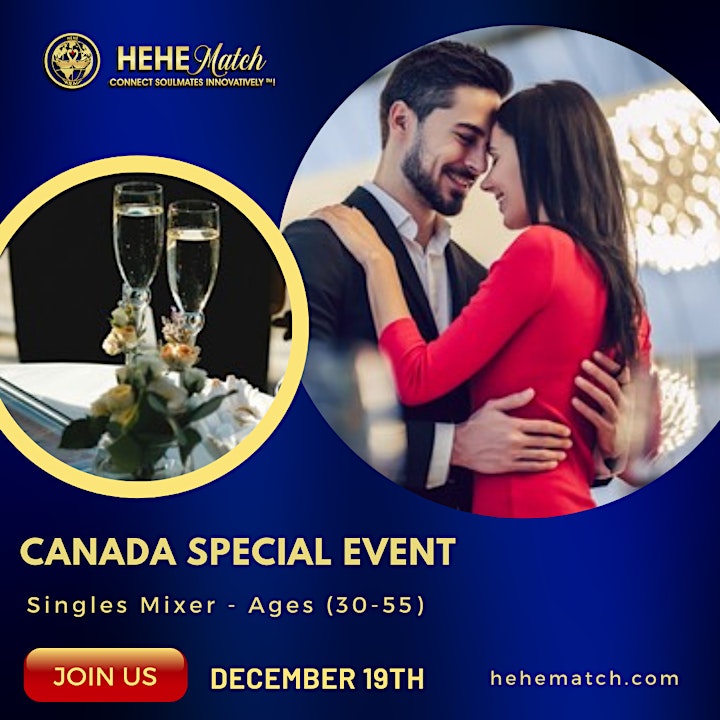 Date and time
Location
Refund policy