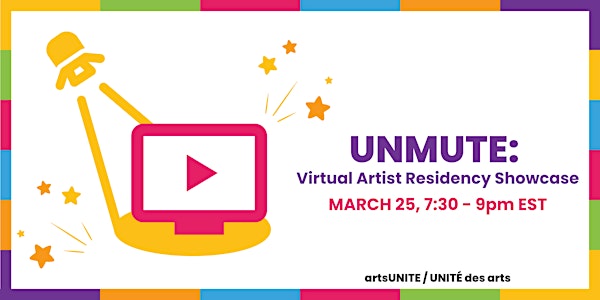 Unmute: Artist Residency Showcase
After 3 weeks of workshops, conversations and mentorship, the 9 artists from the Unmute digital residency share their work!
About this event
After 3 weeks of workshops, conversations and mentorship, the 9 artsUNITE Unmute resident artists share their work! Be it an exploration of the works in progress, a reflection of the residency itself or a full blown performative spectacular, this showcase offers a formal conclusion to the artsUNITE online residency. The format and content will be devised during the residency itself, so be sure to follow @artsunite_ca on Twitter, Instagram and Facebook for updates!
Artist Bios
Julia Rose Sutherland
Julia Rose Sutherland is a Canadian (Turtle Island) born artist who is a member of the Metepenagiag Mi'kmaq Nation. She has an interdisciplinary practice which utilizes mediums such as photography, sculpture and performance. In 2013 Sutherland completed her BFA Alberta University of the Arts and in 2019 completed her MFA at the University at Buffalo. She has shown and participated in residencies internationally in Canada, USA, China and France. She currently resides in Mohkinstsis (Calgary, Alberta) on Treaty 7 territory.
Jessica Ruth Freedman
Jessica Ruth Freedman is an emerging Canadian contemporary painter working in acrylic and mixed media. A former modern and ballet dancer, Jessica's artwork explores the relationship between the natural world and our physical and mental environments through movement, architecture, and music brought to life on the canvas. She has exhibited both locally and internationally. Her work is represented by galleries and stockists, and is in private and public collections worldwide.
Shazia Ahmad
Born in Karachi, Pakistan to a Pakistani father and a Chilean mother, Shazia Ahmad's practice and research interests are centred on the notions of home and belonging, tied to the broader theme of otherness due to her interfaith and mixed-race background. Her practice comprises handmade miniature dioramas, painting, and printmaking. She graduated with a Bachelor of Fine Arts degree in Studio Arts (Painting and Drawing major) from Concordia University in 2019 and was a finalist for the Prix Albert-Dumouchel in 2018. She was also awarded the Guido Molinari Prize in Studio Arts upon graduation, and received the Earl Pinchuk and Gary Blair Undergraduate Award in the course of her studies. Shazia has exhibited work in Canada, the United States, and Spain.
Josephine Clarke
Josephine Clarke is a multidisciplinary artist practicing in Port Hawkesbury, Nova Scotia, Canada. She primarily works with textiles, but her practice also embraces salvage, sculpture, performance, video documentary, and installation. Her practice centres upon themes of deindustrialization, labour, and environmental stewardship. Land based activities that once influenced her rural upbringing now inform her practice. After earning her Bachelor of Design at Kwantlen Polytechnic University, she began her current residency with the Cape Breton Centre for Craft and Design. She has taught classes for the Cape Breton centre for Craft and Design, The New Dawn Centre for Innovation, and the Nova Scotia Fibre Arts Festival. She has exhibited her work at culture events in Atlantic Canada, such as Third Shift, and Lumiere Art at Night Festival.
Kasra Goodarznezhad
Kasra Goodarznezhad is a new media artist based in Toronto. His main focus is Lighting Design and Installation. After studying Graphic Design in Tehran, Iran, he came to Toronto to continue his studies at OCAD University and graduated from the Integrated Media program, winning his major's medal award. He started his career as a New Media artist around 2011. Since then, he's done numerous projects in photography, video, lighting design and installation art.
Mona El Husseini
Mona El Husseini is an Egyptian-Canadian Contemporary Dance artist based in Montreal. She completed her professional dance education at the Cairo Contemporary Dance Center in Cairo, Egypt and studied International Business and Contemporary Dance at Concordia University. She performed in Montreal, Cairo, and Berlin with choreographers such as Karima Mansour, Libertad Pozo Rodriguez, Olivier Dubois, Vincent Mantsoe, Nicolas Cantillon, and Guilherme Botelho. As a choreographer, Mona has created and performed a duet in Berlin, two solos in Montreal as part of Bouge D'ici and the Montreal Fringe Festival, and is currently working on a duet with her mother. Mona is an active member of the Axis Syllabus International Research Network and continues to follow research-based practices that nurture questioning and experimenting. Her current research is inspired by questions in pedagogy, agency, and inclusion across different fields of movement and education.
Mike Hooves
Mike Hooves is a prairie queer artist working in illustration, animation, and film in Calgary, Alberta. Having received their BDes from AUArts in 2016, Mike has become a fixture in artist-run and non-profit communities through their work with Calgary Queer Arts Society, The Quickdraw Animation Society, Buds Collective, and Herland. Mike's film practice has seen their work exhibited internationally, including Vancouver, Montreal, as well as in London and Warsaw. Using colour, shape, and markmaking, Mike playfully explores the inner workings of queer'd life.
Bekah Brown
Bekah is a multi-disciplinary artist of Anishinaabe and mixed European descent residing in Toronto. She graduated from Ryerson's Fashion Design program and has expanded her creative practice to encompass beadwork and multi-media art installations. Her work is a form of personal healing, connection, and communication between her and society. Bekah grew up disconnected from her Anishinaabe culture and community but is now continually learning her Anishinaabe culture and exploring what it means to be a reconnecting Anishinaabekwe in an urban setting. Her work often uses traditional Anishinaabe florals in combination with contemporary motifs that are chosen carefully for their meaning. Her past work has utilized combinations of beadwork, digital illustration, textile surface design, wooden structural elements, sound, interactive lighting, and performance. She has created pieces for Nuit Blanche, The Winter Light Exhibition at Ontario Place, Come Up To My Room, and It's all Right Now in collaboration with the Bentway.
Morgan Moats
Morgan is a singer/songwriter from Southern Saskatchewan. They've been writing music for more than two decades, beginning with pop music as a child. They went to the University of Regina for a degree in Piano/Composition, where they delved more into the classical world and got a little burned out from trying too hard to please others instead of following their heart. This was compounded by the decision in 2018 to begin HRT, which created some significant setbacks in Morgan's singing voice and was very discouraging musically. In 2019, Morgan set their sight once more on creating, having finally had the epiphany that classical music just isn't their thing, and that's okay! They write about many things, but focus a lot on interpersonal relationships. Morgan enjoys collaborating with like-minded musicians and artists, and will be working on their debut album in 2021.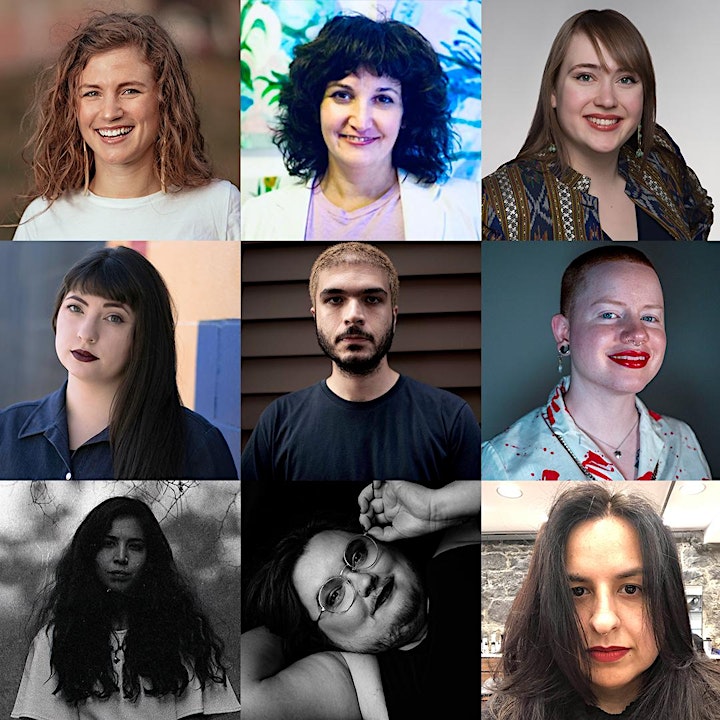 From Left to Right
Row 1: Bekah Brown, Jessica Ruth Friedman, Josephine Clark
Row 2: Julia Rose Sutherland, Kasra Goodarznezhad, Mike Hooves
Row 3: Mona El Husseini, Morgan Moats, Shazia Ahmad