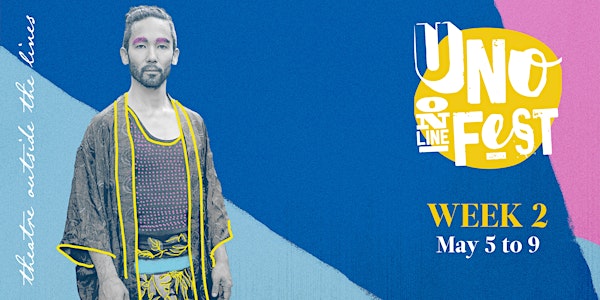 UNO Fest Online - Week 2
New work, original video content, live-streamed performances, free artist talks. Intrepid Theatre is thrilled to bring you UNO Fest Online!
About this event
UNO Fest has always pushed the boundaries of what solo performance can be. Facing this global pandemic, we are not able to gather in the theatre together and must keep our communities safe. So, we are bringing UNO to your home with UNO Fest Online.
Experience video clips and new work online, interviews with the artists, free streaming solo performances, and Facebook Happy Half-Hours with artists and artistic staff. We are embracing our festival tagline – this is theatre outside the lines!
We see this as an experiment. A way to keep art and performance in your life while isolated at home. A challenge to rise to. A new meaning to the term UNO Fest as you experience UNO while being UNO.
PAY-WHAT-YOU-TEN OR MORE:
You can buy a ticket to access online shows and content for Week 1 or Week 2. Tickets are $10, $20, or $50 (which includes a $30 tax receipt) – so you can pay whatever works best for you and your budget. Once you buy a ticket, you will receive a code and link to unlock shows in that week of the festival. There will also be free online content on our Facebook Live throughout the festival.
Week 2 is made of offerings from three national companies:
Monstrous by Sarah Waisvisz (Ottawa)
Exclusive video excerpts from the show, plus join Sarah for a free Facebook Live and playreading on May 5.
Sansei: The Storyteller by Kunji Mark Ikeda (Calgary)
Exclusive online video of the performance. You can also join Kunji for a free Facebook Live on May 7 with Yukari Peerless from the Victoria Nikkei Cultural Society.
Who Killed Gertrude Crump? by Ryan Gladstone and Tara Travis (Vancouver)
Exclusive online video of the performance, and join Monster Theatre for a free Facebook Live on May 8.
Don't miss out on local artists! UNO Fest Online Week 1 content is available until May 9 – buy tickets here.