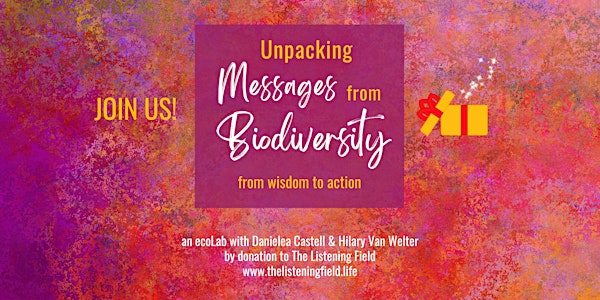 Unpacking Messages from BIODIVERSITY
Integrating and Acting on Nature's Wisdom
Date and time
Tue, Dec 13, 2022 8:00 AM - 10:00 AM PST
About this event
We all need help during these transformational times and we are learning that it is all around us hidden in plain sight. Mother Earth and the Nature Elders are becoming increasingly visible and vocal about their wish to co-create with us and thankfully many of us are listening. But hearing the message is just the first step. Next we need to learn how to uncover the deeper meaning and bring it into actionable steps so that we can become agents for Nature's wisdom in thought, word and deed.
This month we study the fascinating wisdom that came through the Messages received in The Listening Field from the consciousness of BIODIVERSITY during World Unity Week 2022.
Exploration Methods: embodiment, deep listening, creative actioning (using online jam boards), self- and group reflection and sharing. Bring paper and pen.
This is the 6th of 7 monthly ecoLabs facilitated by danielea castell and Hilary Van Welter.
All sessions are by donation to The Listening Field. Questions: ecorelations@pm.me
ORIGIN OF MESSAGES
On June 18 ,2022 World UNITY Week launched 99 Days of Peace through Unity. www.worldunityweek.org For the next 7 days danielea castell hosted The Listening Field Daily where participants consulted with the Foundations of Life Earth, Water, Fire, Air, Climate, Biodiversity and the Web of Life. www.codes.earth/eco-governance
Participants received a wide range of profound messages which were made into visual memes and shared throughout the WUW community.
The wisdom inherent in our eco-relationships is vital during this time of great transformation on earth when both collapse and rebirth are happening simultaneously. Some of the messages can help us to hospice the structures and systems that are collapsing; some can help us make this important shift in consciousness, while others show us the way to rebirth. (Hilary Van Welter)
ABOUT THE FACILITATORS
danielea castell
danielea is an ecoVisionary, sound weaver and host of the Listening Field, a quantum heart space where Humans and Nature Elders can connect and communicate from anywhere in the world. She discovered the Listening Field with her Nature Elders in 2020 when they could no longer meet together due to planetary lockdown. danielea's mission is to bring the voice and the wisdom of the Nature Elders into human consciousness and conversations. She offers monthly Listening Fields, ecoLabs and 1:1 coaching for individuals and small groups who wish to coCreate with Nature Elders in ways that are ethical, reciprocal and fun.
The Listening Field ecoRelations youtube Thank You Water CD
Hilary Van Welter
Hilary's specialty lies in exploring new landscapes and frontiers, uncovering uncharted territory and unleashing hidden potential. As a person who thrives at the intersections of disciplines, she undertakes breakthrough work through her designs and leadership of projects that weave together distinctly different perspectives and knowledge. The goal is to find enriching, inventive wellbeing of all through the significant challenges of our tumultuous world.
Upcoming Sessions
January 17 - Messages from the Web of Life (2023)
About the organizer
danielea castell is a Nature Ambassador, Sound Weaver and Consultant who has been building family relations with Water, Rock and Tree elders around the world for the past 14 years. During this process she discovered her gift for interbeing communication and her purpose as a way shower for 21st century humans and nature relations.
danielea designs and hosts ceremonial spaces where Humans and Nature Elders can connect and communicate on matters of mutual interest and concern. Her latest offering is The Listening Field, a quantum heart space she discovered with her Nature Elders in 2020 when they could no longer meet together due to planetary lockdown.
danielea also hosts online ecolabs where people learn how to deepen their personal relations and dialogue with Water, Fire and Rock Elders.