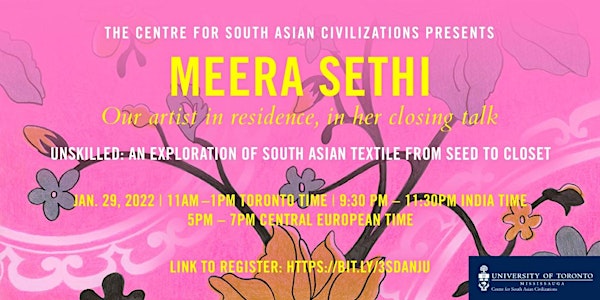 Unskilled: an Exploration of South Asian Textile from Seed to Closet
Join us in a closing talk to explore Meera Sethi's art project on garment workers, the life cycle of clothing and fast fashion.
About this event
Unskilled is Meera Sethi's three-part research and process based exploration of the life cycle of clothing from seed to closet. The art exploration includes the many sites of skill and care that evade or constitute garment work. Unskilled challenges fast fashion by rendering the work of care as a slow participatory process.
1 -Articles of clothing - We are asked to look anew at garment worker actions beyond the numbing impact of mass media images.
2 -Wash 'n Care - Participatory project that extends the idea of clothing tags to include labour conditions of garment workers, environmental considerations and the emotional meaning we attach to what we own through affixing one or many of the 41 symbols of clothing tags.
3 -Gossypium Herbaceum - Latin for desi cotton, a short-staple cotton plant that is native to South Asia and the Middle East. Desi cotton was predominantly used in hand-weaving textiles before being destroyed and replaced by the East India Company for mass production of cloth to Britain.
Event details:
Date - To be announced
Timing - To be announced
Online - Login details for Zoom will be sent out to all registered attendees two hours before the event.
Meera Sethi is an interdisciplinary visual artist whose affective, research-based practice explores fashion, dress, garments, and materiality from critical, feminist, and anti-colonial perspectives. She engages drawing, painting, fibre, social practice, and performance to think through migration and its relationship to memory, cloth, and care with a special interest in the histories of South Asia.
Explore Meera Sethi's work here: https://meerasethi.com/