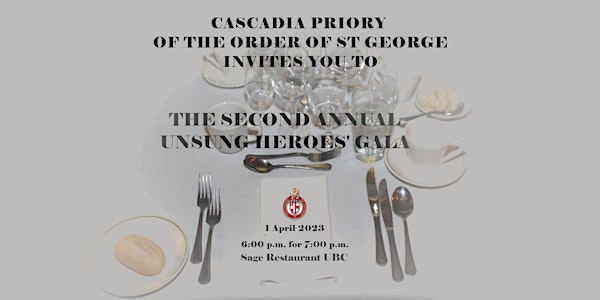 Unsung Heroes Gala
Cascadia Priory invites you to the military style " "Unsung Heroes Gala Dinner April 1, 2023 at the Sage Restaurant, UBC,
When and where
Location
Sage Restaurant The University of British Columbia 6331 Crescent Rd Vancouver, BC V6T 1Z1 Canada
About this event
Help us celebrate Western Canadians who have distinguished themselves in service to Canada. The dinner is a formal affair, military style, and a great excuse to put on your evening wear and bannish the winter blahs.
This year we celebrate Lt Gordon Flowerdew. He left his home in Walachin BC to serve with Lord Strathcona's Horse (Royal Canadians) in the First World War. On 30 March 1918 he successfuly led one of the last cavalry charges in Canadian Military History at the Battle of Moreuil Wood. Severly wounded, he died the next day and was awarded the Victoria Cross, posthumously, for his courage.
Our excellent keynote speaker this year is Rear Admiral (Retired) Roger Girouard.
Master of Ceremonies: Lt.Col. James D. Barrett
Unsung Heroes Gala 2023 Menu:
Main Course:
Chicken - Pan Seared Fraser Valley Free Run Chicken Breast
celeriac puree, crisp pancetta & onion ragout, calvados apple ginger butter, baby carrots &
broccolini
Allergens: milk, sulphites
Or
Beef - Red Wine Braised Short Ribs
cauliflower & leek puree, sautéed greens, peppercorn demi-glace
Allergens: sulphites, milk, gluten, wheat, soy
$5.00 per person surcharge
Or
Vegetarian - Wild Mushroom Risotto
fresh herbs, parmesan Reggiano cheese, truffle oil
Allergens: sulphites, milk
Dessert:
Warm Chocolate Fudge Brownie
vegan chocolate sauce, toasted almonds
Allergens: soy, tree nuts (almonds)
Our beneficiaries for 2023 are the Citadel Canine Society, and the UBC Equine Therapy Program.
More information on the Gala is available here.
Gala Tickets are on sale now. In the event of cancellation of the dinner due to the current pandemic, full refunds will be made for tickets purchased. Otherwise, there are no refunds. Tax receipts are available on request.
If you would like to support the efforts of Cascadia Priory and the Order of St George through this gala but are unable to attend what promises to be an excellent evening, consider sponsoring one of our guests, a guest of your choice, a Veteran, a local politician or a film student.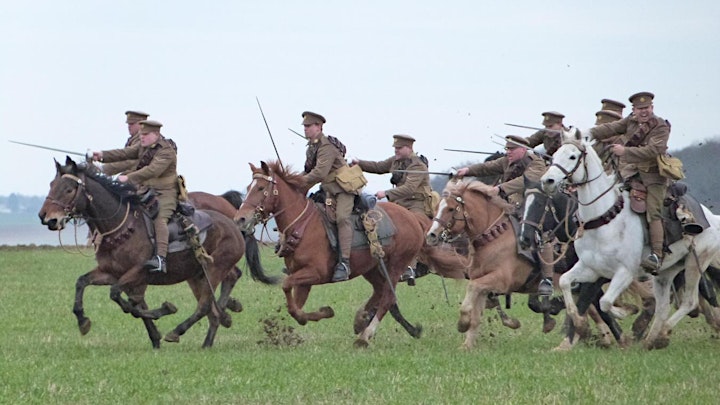 The Mounted Troop of Lord Strathcona's Horse (Royal Canadians) went to France in 2018 to recreate the 30 March 1918 charge at the Battle of Moreuil Wood as part of Centennial celebrations.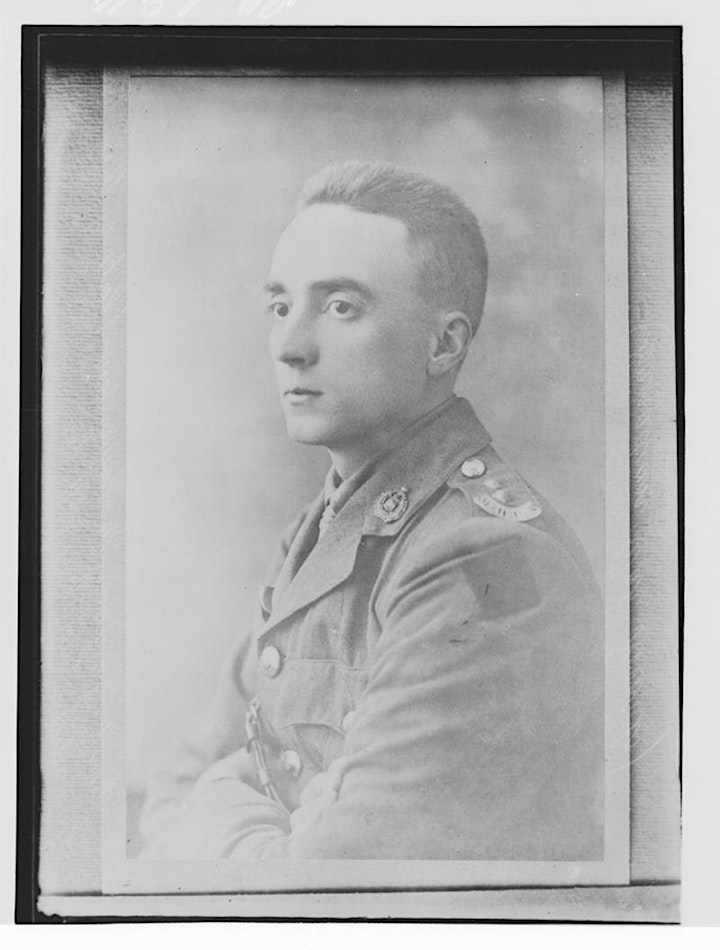 Lt Gordon Flowerdew - January 2nd 1885 - March 30 1918.