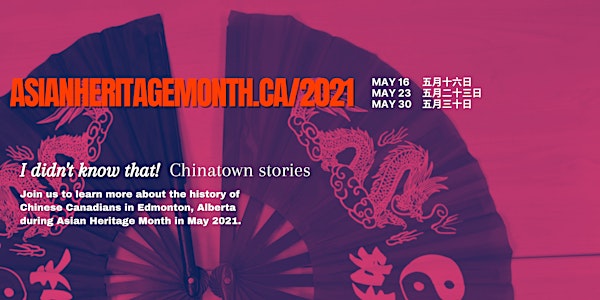 Unsung in the City of Champions: The Story of Martial Arts in Edmonton
"I didn't know that!" Chinatown Stories consists of 3 free online webinars for Asian Heritage Month 2021 - May 16, 23 and 30.
About this event
Unsung in the City of Champions: The History of Martial Arts and Lion Dance in Edmonton
Edmonton was once touted with the moniker "City of Champions", but that was about the city's hockey and football teams that won Stanley Cups and Grey Cups. In Chinatown, and little known beyond the Chinese community, the Edmonton martial arts organizations have champions who competed worldwide and brought back numerous high honours.
Want to hear their stories?
These webinars are presented by the Chinese Benevolent Association and sponsored by Edmonton Heritage Council and Edmonton City as Museum Project (ECAMP).
Partnering organizations are the Chinese Graduates Association of Alberta, Fort Saskatchewan Association (Asian cultural performance), and for the May 16 webinar the martial arts and lion dance associations:
Canadian Ging Wu Kung Fu Martial Arts Association
Jing Ying Martial Arts
Hong De Cultural & Athletic Association (Canada)
Edmonton Hung Mon Athletic Club
5 Elements Drums and Lion Dance Crew
Shang De Tai Chi Praying Mantis Martial Arts Association
Gravity And Grace Tai Chi and Bagua
Wellness Sport Club (Tai Chi)
Ji Hong Wushu & Tai Chi College
Chiu Lau Kung Fu College