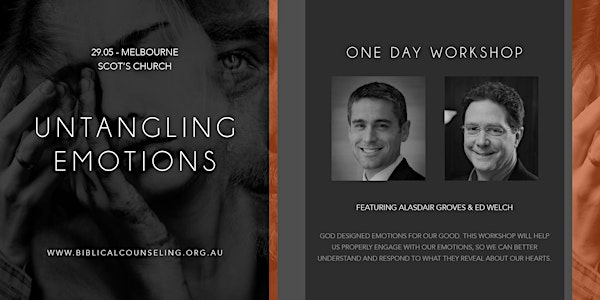 Untangling Emotions - Melbourne one day workshop for everyone with Alasdai...
Event Information
Location
Scots' Church
156 Collins Street
Melbourne, VIC 3000
Australia
Description
Our emotions are complex. Some of us seem able to ignore our feelings, while others feel controlled by them. But most of us would admit that we don't always know what to do with how we feel.
The Bible teaches us that our emotions are an indispensable part of what makes us human―and play a crucial role in our relationships with God and others.
Exploring how God designed emotions for our good, this workshop will help us properly engage with our emotions so we can better understand what they reveal about our hearts and respond to them wisely in everyday moments.
Date and time
Location
Scots' Church
156 Collins Street
Melbourne, VIC 3000
Australia
Refund policy